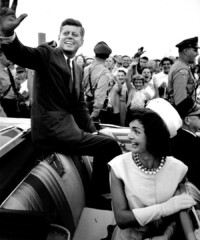 The 1960s brought the world some of the most influential photojournalism of all time. From political controversy to the optimism thread throughout the American public, photographers captured some truly vivid imagery that is still celebrated today. And of course, one of the most iconic American families came into power during this pivotal golden age of photojournalism: the Kennedys.
The New-York Historical's presentation of American Visionary: John F. Kennedy's Life and Times is one of the most exhaustively researched collections of photos documenting the President's public and private life. On display from June 23, 2017 to January 7, 2018, the exhibit will spotlight imagery from the John F. Kennedy Presidential Library, the John F. Kennedy Library Foundation, Getty Images, private collections and the Kennedy family archives. 
Photographers such as Ed Clark, Lisl Steiner, Ralph Crane, Philippe Halsman, Ted Spiegel Jacques Lowe, Lawrence Schiller, Steve Schapiro, and Sam Vestal will have work on display. Photos of Kennedy as a politician were just as sought after as photographs of Kennedy in his private life. Currently, no politician was photographed more than Kennedy. Perhaps it was because of his well-known family name or the timing of his campaign, but what we are left with is an extensive archive of imagery. From Kennedy's first congressional bid as a war hero in 1946 to his picture-perfect wedding to Jacqueline Bouvier in 1953 to intimate moments between a father and his new-born daughter, these photos allow people to see Kennedy as a husband, father, son and a President.
On view at New-York Historical Society June 23, 2017 –  January 7, 2018
170 Central Park West (at 77th Street)
The exhibition will also be on display at the Smithsonian American Art Museum through September 17.