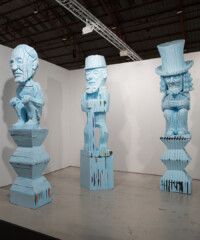 With over 60 exhibitors, many from just down the freeway, Art Los Angeles Contemporary makes an earnest case for L.A. as an art market destination. On Thursday night, visitors to the VIP preview of the fair's ninth edition included Search Party's Alia Shawkat, Girls' Christopher Abbott, John C. Reilly, Tatum O'Neal, and ambitious (and sometimes scandalous) uber-collector Leonardo DiCaprio. Collector, photographer and recently installed Céline creative director Hedi Slimane could be found at M+B Gallery's booth, surveying pen and marker drawings by New Orleans-based artist Dapper Bruce Lafitte.
"L.A. gets a bad rap," remarked ALAC host committee member, collector, and music executive John Rubeli, offering a healthy dose of booster club optimism. "There's not a lot of cynicism here. There's a lot of optimism here, and support, and most importantly creativity." If what people think about a city, or imagine its richest citizens might desire, can be judged by an art fair, a stroll through ALAC's halls suggests that LA is a city of bright colors and light hearts, with no fear of playing to type.
Walking through an art fair often feels like the physical manifestation of a mildly unfocused Google image search. Except, instead of exchanging key words for digital images, the art fair reverses the equation, offering the quixotic visuals first, and prompting one to imagine what magic words may have gathered such disparate visions.
Standout showings included Louise Alexander Gallery's presentation of Folkert de Jong's Totemism, a towering semi-circle of comically carved effigies of Andy Warhol, Fidel Castro, Snoop Dogg, Abraham Lincoln, and Louis XIV hewed from powder blue Styrofoam and laminated with colored glues. Smart, fun, and only a little dangerous, the piece kept pace with an overall trend across the fair for light-handed gestures toward social consciousness and local iconography.
Doubling down on this strategy, New York's The Hole crafted a scene-stealing booth seemingly constructed from wooden shipping crates filled with electrically patterned works. In the corner, Eric Yankher's "THE WAY WE WERE," 2018, a pastel on sandpaper portrait of Michelle and Barack Obama, itself a frame within a frame being carried away, struck a rare note of somber seriousness amid the festivity.
Demonstrating how much catch-up LA still likely has ahead; Shulamit Nazarian afforded established artist Trenton Doyle Hancock what he amazingly described as his largest showing yet in Los Angeles. In a booth filled with an exuberant expression of his "mound" mythology, Hancock related his work to those nearby, including the collective FriendsWithYou. "I feel a kinship to what they're doing," he said. "There's a grandiosity and this looking back to childhood to kind of comment on it, celebrate and partake in this bygone aspect of our life."
Showing with Glendale's The Pit, FriendsWithYou has turned Gumby's friend Pokey into a monumental rocking horse. "I just watched a video with Swizz Beatz, he has a giant KAWS in his living room and that would fit right in," remarked photographer and impresario of Things Organized Neatly, Austin Radcliffe.
In view of the live skateboarders installed to slalom in a half pipe at the fair's entrance by juice bar start-up Tropics, Radcliffe said he appreciated signs of greater accessibility and diversity to be found throughout the fair. "Underrepresented communities have felt, I think, empowered in the wake of the Obama years," he remarked, "and I'm glad it's reaching the art world. In some small way this is an important audience to reach with this."
Main image: THE WAY WE WERE, 2018 by Eric Yankher, courtesy of Art Los Angeles Contemporary