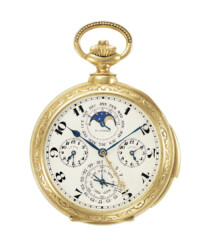 For the first time, the famed Midtown Manhattan restaurant Cipriani 42nd Street will have a two-story structure created within the building to host an exhibition dedicated to the history and heritage of luxe watchmaker, Patek Philippe. The Swiss watch company has joined forces with the Kips Bay Boys and Girls Club to create The Art of Watches Grand Exhibition New York.
From July 13 – 23 visitors can explore the inner-workings of the last privately family owned Geneva watch manufacturer. With ten themed rooms including the Theater Room, Current Collection Room, Museum Room, US Historic Room, Rare Handcrafts Gallery and Grand Complications Room, the public exhibition will showcase some of the most exceptional wristwatches made throughout Patek Philippe's 178-year history. From Queen Victoria and Prince Albert to the rumored $1.6 million watch purchased for Russia's Vladimir Putin, a Patek Philippe timepiece is highly sought after. 
Patek Philippe is celebrated for designing and producing some of the most intricate mechanical watches. Founded in Geneva, the manufacturer was brought to American markets in 1935 and has been a leader in high-end timepieces since then. Most notably, at auctions throughout the United States, where Patek Philippe watches have been sold for anywhere from $5.5 million to $24 million.
There will be watchmaker and artisan demonstrations available on-site over the course of the 11-day exhibition in order to help educate watch enthusiasts.
Take a look at the gallery above for a sneak peek at some of the timepieces that will be on display.