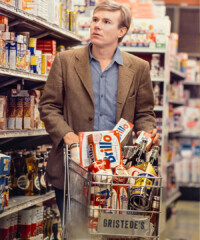 The Andy Warhol. Dark Star exhibition will be on display at the Museo Jumex in Mexico City from June 2 to September 17. It is the first survey of its size to be organized in Mexico and will explore the first decade of Andy Warhol's artistic perspective. Curated by Douglas Fogle, the exhibition is meant to show how as a post-war artist, Warhol developed into a creature of his environment. "He both wanted to be famous himself and was in awe of the mechanism that produces fame and celebrity," Fogle explains. "In some ways I think that the first decade of his artistic career from 1961 to 1972 was the truly revolutionary moment in Warhol's career." Fogle continues to describe how Warhol imported pop culture content into his work while simultaneously radicalizing the methods by with artists could create. A perfect example of this would be Warhol nicknaming his studio The Factory and famously comparing himself to a machine that produces art.
As far the works included in Andy Warhol. Dark Star, Fogle struggles to choose just one favorite. "Can I cheat and choose two works?" he requests. "I'd have to say that it is either "Orange Disaster #5" from the collection of the Guggenheim Museum or "Silver Liz as Cleopatra" which is on loan to us from the Art Gallery of Ontario," he decides. "Orange Disaster #5" is an iconic Warhol piece, with 15 repetitions of an empty execution chamber in black on top of a blazing orange background. This piece is the only work from the "death and disaster" series that is devoid of people. Fogle says it best when he says, "Death comes to every man. If the renaissance masters include certain objects like skulls in their still life paintings as memento mori, Warhol gives us an entire image worth of remembering that all life is transitory."
"Silver Liz as Cleopatra" repeats a publicity image of Elizabeth Taylor as Cleopatra from a time when Taylor's face had been plastered over the tabloids for her health issues. "Taylor, along with Marilyn Monroe and Jackie Kennedy, were part of Warhol's pantheon of Hollywood goddesses. They were his muses. All of them had been touched by tragedy in one way or another," Fogle describes. 
Although the exhibition includes over 100 works, Fogle decides, "You could make an exhibition by just putting these two works in a room facing one another. Together they say it all–the light and dark side of our modern world all wrapped up in one package."
The complete survey encourages viewers to recognize the relationship between the light and dark side of consumer culture that Warhol was so famously inspired by. There was a tragic notion that stemmed from the post-war consumer. The American population prefers to remember Warhol's colorful portraits of Campbell soup cans and forget that the silkscreened stories of car crashes and suicides are just as important. "He thought of the Marilyn Monroe silkscreen paintings as having a funeral-feel to them as she had just committed suicide," Fogle admits. "With the glamour of a new car comes the possibility of a car crash. A shooting star in Hollywood comes the possibility of a celebrity to burn out," Fogle says of the most surprising aspect of Andy Warhol. Dark Star.
Take a look through the gallery above for a peek at the works included in Andy Warhol. Dark Star.