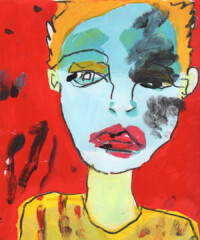 On stage, Alison Mosshart—who fronts rock bands The Kills and The Dead Weather—is a formidable force. It turns out the same quality extends to a gallery's walls. Beginning June 18, Mosshart's paintings will be on display at Manhattan's Joseph Gross Gallery in Fire Power, a sprawling exhibition of the Nashville-based Mosshart's paintings, drawing, tapestries and other work.
Here, she talks with DuJour about making her art, sharing it with the public and how music has inspired her visual work.
What made you decide to mount an exhibition of your art?
Well, I was asked. I was part of a group show for [Joseph Gross Gallery] last year.  I submitted some pieces and it went really well. I had never shared my art in a gallery before, so that was a complete first for me, and it was great. Then they asked me to do a solo show pretty much a year later, which gave me a little time to gather my thoughts and do some work.
An awful a lot of work. There are 127 pieces in the show.
It's 127 pieces, yeah. It includes pieces from 2012, but the majority are from 2013 through 2015. I probably submitted like 300, but we narrowed it down.
You must be incredibly prolific. When do you work?
The mood strikes and I'm a maniac, that's what happens. And you know, I don't paint in oil so I'm not waiting for it to dry forever, so if I'm in the mood I'll paint like eight things a night. I paint tons backstage when I'm on tour, or in hotel rooms, any time when I don't know what else I should be doing.
What do you find makes the best subject for you?
I'm kind of stuck on painting faces. I think it's because I see a lot of people, I meet a lot of people and people are around all the time. None of these things are of particular people, it's more my interpretation of whatever I'm painting at the time.
Do you find that this sort of output scratches a different itch than music does? 
It does in a way, but I've always been doing both. I feel like I have to do it, they kind of go hand in hand for me, I'm definitely a more visual person, I think I use my eyes more than my ears; I see music that way, you know, I see music rather than hear it. It's kind of the same thing, but the process is very different, making a record is a really long, daunting, complicated process and making a painting takes 10 minutes sometimes. I know when it's done, I look at it and know that it's done, and I feel good about that and I don't ever want to touch it again.
With more than 100 pieces at the gallery, you must have a lot more space to work now.
That's what I think! Now I can make some more. I've just got this nice cycle going, and it makes me really happy to know that these pieces are hanging in people's houses, and that people get to see them. I don't write music just to keep it and never play it to anybody. This is exactly the same thing.