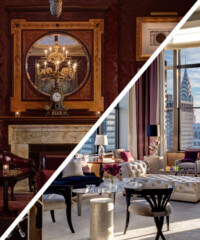 Theatergoers might know Alex Timbers as the director of Rocky, the current Broadway hit based on the iconic film of the same name. Or perhaps they know him as the director of Here Lies Love, the lauded theatrical experience based on the life of Imelda Marcos—which features music by David Byrne and Fatboy Slim—that's now open for a second run at Manhattan's Public Theater. Neither of those ring a bell? Wait just a minute for Timbers' next projects, which include the Amazon web series Mozart in the Jungle and a musical project with Oscar-winning Frozen songwriters Kristen Anderson-Lopez and Robert Lopez.
"Because of these complex musicals running up right against one another, life is a bit crazier than usual right now," the Tony-nominated writer and director says. "I always have things overlapping, but the complexity of these shows has consumed a bit more of my focus than they might have otherwise."
Curious about how one man manages so many high-profile projects, DuJour gave Timbers Sony's Cyber-shot Digital Camera RX100 camera and tasked him with shooting scenes from his life over the course of one very busy week. From recording the cast album for Rocky to rehearsals for Here Lies Love and a rare quiet moment in his office, Timbers captured a dozen images of his exciting and exceedingly musical life.
Click through the gallery above to see Timbers' photo diary.
MORE:
Rocky's Morgo Seibert: Broadway's Newest Knockout
Daniel Radcliffe Proves He's All Grown Up in His Latest Role
Paul Wagner: A Life in Lights