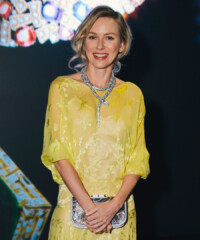 Houston socialites like Lynn Wyatt and Becca Cason Thrash joined members of the Bulgari family (Veronica and Nicola) for a celebratory gala on May 1 at the Museum of Natural Science. The occasion feted the opening of "Bulgari: 130 Years of Masterpieces," an exhibition of 150 pieces created by the famed Italian jeweler which included pieces from the Elizabeth Taylor collection. The brand's landmark retrospective (on view through October 5 at the museum) showcases never-before-shown jewelry as well as pieces on loan from collectors like Wyatt, Joanna King Herring and Christina Girard.
"Houston is historically a bold, powerful, daring and entrepreneurial city, always forward-thinking—qualities that are exactly what Bulgari stands for in the world of jewelry," said Bulgari CEO Jean-Christophe Babin.
After taking in the exhibit, guests were treated to an Italian dinner in a room outfitted to look like the Spanish Steps in Rome with flourishes like terra-cotta pots of azaleas, floral chandeliers and candlelit tables.
"Whatever you wear from Bulgari makes such a statement while managing to combine the old Italian heritage with a modern edge," says actress Naomi Watts, who was in attendance. "The great thing about Bulgari is that it remains timeless and classic."
Click through the gallery above to see photos from the event.
MORE:
A Look at Naomi Watts' Bulgari Serpenti Watch
3 Insiders on Why Houston Fashion is On Fire
Eric Bana's Bulgari Finissimo Octo