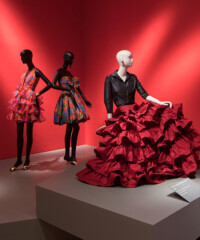 San Francisco's de Young museum celebrated the world premiere of Oscar de la Renta: The Retrospective with an invitation-only black-tie gala that brought together an eclectic group of the designer's family, friends, clients and admirers from all over the country. 
The exhibition, curated by André Leon Talley and hosted by Honorary Chairs Annette de la Renta and Diane B. Wilsey, was a showcase of over 50 years of the designer's work. The nearly 120 ensembles included some designed for American fashion house Jane Derby in the 1960s, as well as many from his days designing haute couture for Balmain. Some gowns on display were from Annette de la Renta's private collection, with a few displaying the designer's trademark Spanish influence. Others took a hiatus from the closets of friends like Houston socialite and philanthropist Lynn Wyatt, interior designing socialite Ann Getty and, of course, Dede Wilsey.
A point of interest for de la Renta's many admirers is a "red carpet" display of gowns worn by celebrities, including Sarah Jessica Parker, Amy Adams, Taylor Swift and Rihanna, accompanied by a video montage of those memorable award show moments.
Certainly a time to remember the beloved designer, it was also a time for many to talk about fashion, today's designers and de la Renta's contemporaries. During a brief walk through the exhibition with Boaz Mazor, Executive at Large at Oscar de la Renta, DuJour came across an ensemble that belonged to Nancy Reagan, which sparked conversation about the late First Lady and her impeccable sense of style.
Oscar de la Renta: The Retrospective (March 12-May 30), de Young Museum, 50 Hagiwara Tea Garden Drive, Golden Gate Park, San Francisco. deyoung.famsf.org