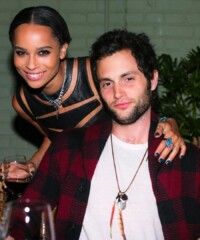 It's no secret that in the last couple of years Zoe Kravitz has successfully implanted herself into the fashion industry "It"-girl club, and on Thursday night she proved she's got chops as a designer too. At the top of New York's Gramercy Park Hotel, Kravitz toasted her nine-piece collection of jewelry for Swarovski Crystalized with friends that included Alexander Wang (who designed the dress she wore for the evening) and Pamela Love, as well as her mom Lisa Bonet and boyfriend Penn Badgley. Before dinner, Questlove spun at the turntables while Kravitz showed off some of her favorite pieces that incorporate turquoise and feather charms with the crystals, explaining that she "found inspiration in native, earthy colors." She also said that "the beautiful lights and colors reflected in the Swarovski crystals reminded me of the colors you see when the sun is shining on a pool of water."
With plenty of shine on her Swarovski collection and a budding Hollywood career (she stars alongside Will Smith in this summer's blockbuster After Earth), it's clear that Kravitz's star power is only getting brighter.
Take a look at the jewelry and party photos in the DuJour gallery.