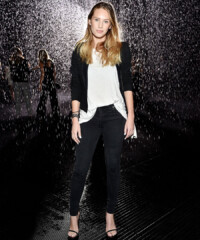 Angelenos praying for rain can seek a quick fix at LACMA, which opened the "Rain Room" exhibit at a special event this week. The room created a sensation in New York when it debuted at MoMA two years ago. For Los Angeles, this particular experiential art holds deeper meaning, given the ongoing drought.
"There's this triangle between the depiction of nature, art depicting nature, technology, which is ubiquitous in our lives, and me, the human being," says LACMA Director Michael Govan. "It asks big questions like, Is the future of our world run by technology? Is nature interacting with technology? It doesn't propose any answers, it just proposes a meditative environment to consider all that."
He also credited RH and Random International for making the Rain Room installation possible. "Restoration Hardware is more than helping to present it— they were very involved in helping to fund the initial research that led to the making of the piece," said Govan.
But there's the matter of the million dollar question: Doesn't the exhibit waste a lot of water?
"This uses less water than it takes to make a hamburger, said Govan. "It's all recycled. It's not a waste of water, it's a spectacle of water. It brings water to everyone's attention."
The Rain Room opens to the public at LACMA on November 1.