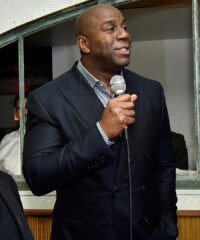 This Thursday night, DuJour CEO Jason Binn, along with NBA legend Earvin "Magic" Johnson and best-selling author Darren Prince, came together to celebrate Prince's bestselling book, "Aiming High," at New York City's Pomona.
The star-studded holiday event was decorated with DuJour's winter issue throughout the restaurant, featuring cover star, Felicity Jones. In honor of Darren Prince's 10 years of sobriety, the author was signing copies of "Aiming High" and gave an inspirational speech on his journey and success. Earvin "Magic" Johnson also spoke about 2018 marking 25 years since his HIV diagnosis and his enduring relationship with both Darren Prince and Jason Binn.
Guests enjoyed passed hors d'oeuvres and a custom raspberry Cîroc cocktail with a beautiful pink hue. Notable attendees included Earvin "Magic" Johnson, Darren Prince, Dr. Drew Pinsky, Charles Oakley, Lizzie Grubman and more.
Click through the gallery above for a look inside the DuJour party with Earvin "Magic" Johnson and Darren Prince.