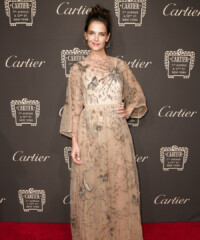 Officially christened "Place de Cartier," the corner of 52nd Street and Fifth Avenue came alive with the infectious energy of New York Fashion Week last night. Stars dotted the crowd that stretched from the red carpet into the Cartier Mansion and up a grand staircase ascending four stories of diamonds, champagne and caviar.
Rooney Mara, Sofia Coppola, Sienna Miller and more celebrities explored the many sparkling displays and elegant alcoves throughout the 44,100 square-foot flagship store, which recently underwent a massive renovation at the hands of lead architect Thierry Despont. "I wanted to give people the feeling of being in the grand house that it once was and to restore it to its full glory," he said in a release.
The New York City landmark has been home to the luxury jeweler since 1917, when Pierre Cartier famously traded a million-dollar natural pearl necklace for the extravagant property. History abounds throughout the store, which features salons paying homage to Grace Kelly and Elizabeth Taylor.
"While the city has evolved to unimaginable heights, the Cartier boutique has consistently remained an integral part of the ever-changing landscape. We look forward to continuing this legacy in our New York City home for many years to come," says Mercedes Abramo, CEO of Cartier North America. To end the night, guests migrated across Fifth Avenue to an over-the-top after party featuring a surprise performance from Ellie Goulding.