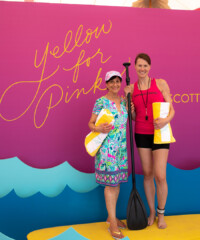 Things got pretty in pink last weekend in Sag Harbor, New York during the Hamptons Paddle & Party for Pink fundraising event for the Breast Cancer Research Foundation. The annual event, which benefits breast cancer, has raised nearly $10 million since its inception seven years ago, with $1.4 million being raised just this year alone.
The two-part summer soirée, held at Havens Beach, began in the morning with a brisk WPA-sanctioned paddle race and ended in the early evening with a sunset fête. The winners of the paddle race were celebrated at an awards ceremony that also toasted to the largest fundraisers at the event, Team SOS.
Event sponsor Lilly Pulitzer stayed true to the fashionable pink event with customized decorations including surfboards on display that definitely encouraged the summer theme. Hosted by Jill Martin, notable guests included Colin Cowie, Claire Florence, Christina Steinbrenner, Darcy Miller, Nicole Miller, David & Lisa Klein,and Shelly Brown. Attendees posed for photos in front of the wall of surf gear, and watched a designer hand-paint one of the surfboards throughout the evening.
President of the Breast Cancer Research Foundation, Myra Biblowit, went onstage to announce that the foundation will award $64 million to 300 scientists for breast cancer research. "Death rates from breast cancer have decreased by 40% since BCRF was founded 25 years ago and research is the reason," she said. With $1.4 million raised over the weekend, the summer party was a success.
Main Photo Credit: Travis Magee Photography