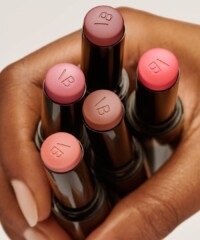 British fashion and beauty entrepreneur Victoria Beckham ventured into the beauty space, creating two best-selling capsule collections with Estée Lauder before launching Victoria Beckham Beauty in 2019 in partnership with industry veteran Sarah Creal. Beckham set out to create a new standard of clean luxury: her makeup and skincare products are cruelty-free, sustainably minded, cleanly formulated and high-performing. "We wanted to create a beauty brand with a strong focus on clean formulas that really perform and feel luxurious in your routine," explains Beckham. "We didn't think there was anyone out there that was pulling these futuristic elements together." Victoria Beckham Beauty stems from the idea that beauty should complement and enhance the dynamic life you lead, and its devoted fans like Melanie Grant, Tracy Anderson, Cassandra Grey, Kim Kardashian and Kris Jenner clearly agree. "We wanted to create something that is desirable, a pleasure to use and has a soul," says Beckham. "Our brand is coming from our point of view, and we are creating things that are authentic to our vision. Everything we do brings together clean ingredients, responsible sourcing and sustainably minded design; our goal from inception has been to create true luxury performance in clean beauty."
The entrepreneur shared with DuJour Media, founded by Jason Binn, how she spends a typical day in London.
7:00 A.M.: I wake up and get Harper up and ready for school. We catch up over breakfast and I get through emails from overnight while she packs up her bag. With my fashion team based in London and beauty based in NYC, I'm always on.
8:00 A.M.: David and I like to take Harper to school together. After the school run, we go to a workout with our trainer.
10:00 A.M.: I shower as quickly as I can and head to the office. I love being in person with my team. These past years, working remotely, have been a challenge.
10:30 A.M.: Every day is different, but I pack my days with back-to-back meetings to try to be as productive as possible. For example, today I met with my design team on our new monogram that will debut in our pre-autumn/winter collection. I am excited for this design and to extend it into new categories such as outerwear.
"We wanted to create something that is desirable, a pleasure to use and has a soul." – Victoria Beckham
1:30 P.M.: I have a working lunch with my team. This is typically my first meal of the day. For the rest of the afternoon, I snack on almonds to keep myself full until dinner.
6:00 P.M.: I get home for dinner with the family. This is the most important part of my day. It's sacred in our household. Afterwards, we relax together, typically watching some television. Harper is really into Newsround, and David insists on watching Friends or Modern Family nearly every night.
8:00 P.M.: Harper and I both love our evening beauty routines. I love a warm bath, and we typically do a face mask together as we wind down from the day. I am pretty religious about my skincare. Having clean, healthy skin is most important, so I cleanse my skin with Augustinus Bader Cleansing Balm to remove my makeup. After that, I use my Victoria Beckham by Augustinus Bader Cell Rejuvenating Power Serum and Cell Rejuvenating Priming Moisturizer.
10:00 P.M.: I get in bed and catch up on some email before putting the phone away. I'm trying to practice healthy sleep habits, which means less phone time and more mindfulness. I sleep in my VB silk pajama set with my Victoria Beckham Beauty x Slip Silk Eye Mask. And I have crystals on my nightstand for some extra clarity.