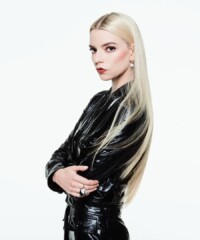 The American-born, English Argentine actress Anya Taylor-Joy, who starred in M. Night Shyamalan's Split and the recent adaptation of Emma (she also had a recurring role on Peaky Blinders), rose to stardom in Netflix's 2020 original series The Queen's Gambit as a gifted chess player. Now, the 26-year-old actress is starring opposite Nicole Kidman, Ethan Hawke and Alexander Skarsgård in April's action adventure film The Northman. When she's not busy filming in far-flung destinations around the world, she's spending time with her actor-musician boyfriend, Malcolm McRae.
Taylor-Joy talked to DuJour Media, founded by Jason Binn, about popcorn, lipstick and how her relationship with beauty has evolved over the years.
What's your first memory of Dior?
I used to wear Miss Dior Cherie as a teenager and I was completely obsessed with it. I remember discovering it and being heartbroken when it was discontinued. I later found out, having met with the incredible Dior patrimony team, that the difference is that they took out the popcorn notes, which makes a lot of sense considering my job and my proclivity toward popcorn. It makes a lot of sense that I liked something that was popcorn-scented.
What inspires you most about the brand?
The sense of timeless grace that the House has, but with this real sense of freshness. It feels like Dior dresses the modern woman while still retaining this quality of elegance, and I love that. It feels very graceful.
What do you love about Dior Addict lipstick?
I love the energy it gives me when I put it on. I am someone who keeps quite a bare face, because whenever I do work, I have a lot of makeup on. In my own time, I don't tend to wear as much. The most I will do is put on lipstick. It's very easy to do and yet it completely changes your attitude, and I think that's what Dior Addict is for me. I love that it feels so playful, that you can dress up your lipstick and it's refillable. It has this wonderful shine to it that I really enjoy.
"I love it when someone compliments me on the shade of my lipstick or they say they haven't seen that shade before." – Anya Taylor-Joy
What is your daily beauty routine?
I wash my face every morning and apply toner and sunscreen. That's my morning routine; at night, I do the same except instead of sunscreen, I put on the Dior Prestige serum and cream because it not only helps fight against all daily aggressions, but also help renew my skin elasticity. It feels really luxurious, and the beautiful smell also helps me unwind and relax. I love roses, and it's so lovely to go to bed smelling like one.
What beauty products are always in your bag?
Dior Prestige La Mousse Micellaire face cleaner, Diorshow Iconic Overcurl Mascara in Black and Dior Addict lipstick in the shade Dior 8. I look for a unique shade in a lipstick, as well as staying power. I love it when someone compliments me on the shade of my lipstick or they say they haven't seen that shade before.