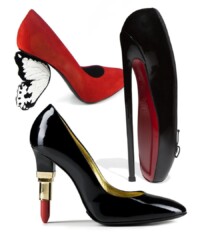 "I did not have three thousand pairs of shoes. I had one thousand and sixty" – Imelda Marcos
And so begins Shoe Obsession, a new book filled with over 150 pairs of the world's most spectacular footwear from the 17th century through, well, the future. The former Philippine first lady's quote fittingly opens the book — which celebrates the collections of her modern-day, heel-loving counterparts, including socialite Daphne Guinness, designer Yliana Yepez and Baroness Monica von Neumann.
Take a look in the DuJour gallery for fantastical, imaginative shoes by Ossie Clark, Christian Louboutin, Alexander McQueen and more. Shoe Obsession is currently on exhibit at The Museum at FIT. The accompanying book, by Valerie Steele and Colleen Hill, is for sale in April.