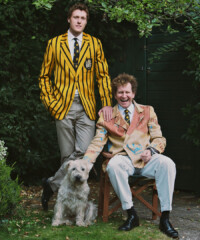 If it wasn't clear from the PhD in archaeology he's currently finishing at Oxford University, 27-year-old Jack Carlson has a fondness for history. For the past four years, Carlson has traveled around the world creating Rowing Blazers, a tome dedicated to the traditions and sartorial cultivation of the original rowing blazer. 
"The coolest thing was visiting the boathouses and seeing some of the clubs that I might not have gotten to otherwise," says Carlson. "There's something about being there in person and hearing the athletes tell you about the history of the club, why their club colors are what they are and what kind of traditions they have."
The 2013 winner of the Henley Royal Regatta, Canadian Henley Regatta and Head of the Charles Regatta can trace his rowing roots back to 2004 when he competed with his high school team at the Henley Royal Regatta. After his team's elimination in the first round, he used the next four days of the event to view the blazers, beginning to discover the traditions, colors and patterns. However, it wasn't until almost a decade later that he decided to pursue the project.
"[The book] really brought together three big interests of mine—rowing, fashion and pageantry," says Carlson. Indeed, with F.E. Castleberry, formerly a concept designer at Rugby, as the primary photographer, the volume captures more than meets the eye.
Click through the gallery for a peek into the world of Rowing Blazers where DuJour uncovers Carlson's most favored pieces.   
Rowing Blazers, available September 16, 2014.
MORE:
Business Suits You'll Actually Love
This Seasons Most Coveted, Comfortable Coats
Boy Meets Girl: The Menswear Style Movement