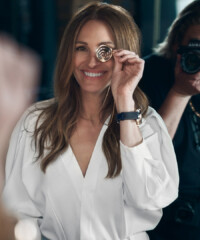 Today, Chopard launches an new campaign entitled "Chopard Loves Cinema" starring Julia Roberts as its global ambassador featuring a series of short films directed by James Gray (Armageddon Time). Since 2021, Roberts served as the ambassador of the Happy Sport and Happy Diamonds collections but now, she will represent all of the Swiss jewelry house's women's and watch collections.
Twelve video episodes will be unveiled over the coming months, debuting on March 20th. "After our Happy Diamonds campaign directed by Xavier Dolan in 2021, which featured a mesmerizing and twirling Julia Roberts illustrating the pure, immediate and communicative happiness at the heart of Chopard's spirit, this new series broadens the spectrum of the initial momentum," says Caroline Scheufele, the brand's co-president and artistic director. "We are revealing a new facet of our identity, the Feel-Good vibe: the self-confidence instilled by Chopard jewelry or watches, reverberating in the air and infusing the entire surrounding universe with positive energy."
"Julia Roberts is that rare thing: a genuine movie star," says Gray.  "I always jump at any chance I might get to work with her.  I always consider my day made if I've made her smile. And the work is always a pleasure, if for no other reason than the fact that the camera is as big a fan of Julia's as I am! Both Julia and Chopard embody a true sense of happiness, so it was a wonderful opportunity to work with them on this campaign."
The films are accompanied by a new advertising campaign featuring visuals by British photographer Alasdair McLellan behind-the-scenes shots by photographer Greg Williams.