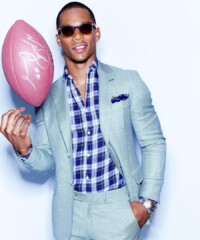 It's 11 a.m. on a weekday at Eros Café, a family-run Greek restaurant in Rutherford, New Jersey. The quiet lull that occurs after breakfast ends but before lunch begins is suddenly interrupted when the back door is flung open and a tiny girl darts inside. She's a 14-month-old on a mission, shod in impossibly cute, doll-size Air Jordan sneakers—and she is fast. Following close behind is a handsome, impeccably dressed man, who's wearing sneakers nearly identical to the toddler's. Only after seeing the barely-there gap between his teeth when he smiles do I realize that the guy chasing after his daughter is Victor Cruz of the New York Giants.
It's off-season for Cruz, the Giants' star wide receiver. Since he wants to spend as much time as he can with his longtime girlfriend (and high school sweetheart) Elaina Watley and their daughter, Kennedy, he's brought them to the interview and mother and child sit at a table nearby. The couple try to live as normal a life as possible, he says—they go to the mall and out to dinner close to their home in Lyndhurst, New Jersey.
These days, though, Cruz rarely goes unrecognized. "I'm still getting used to it," he says, as he digs into his French toast, scrambled eggs, bacon, home fries, rye toast and bowl of strawberries. "But it's a good feeling! I remember the days when no one knew who I was, no one cared… so it's a blessing."
When Cruz says he feels blessed—and he says it quite often—you know he means it. As a half-Puerto Rican, half-black kid raised by a single mother in a gang-ridden neighborhood in Paterson, New Jersey, he had little reason to think he'd go to college—let alone play pro football. Now he's considered one of the NFL's best receivers. During the 2011 season, he led his team in receptions (82), touchdown catches (9) and yards (1,536)—culminating in a Super Bowl win against the New England Patriots. He ended the 2012 season with 86 receptions, 10 touchdowns and 1,092 yards.
But lately, Cruz has been gaining fame in another arena: fashion. He thinks the fusion of football and fashion was inevitable. "Now you have cameras taking photos of guys as they come off the buses into the games, capturing what they're wearing. I think the players are paying attention to that, and it's cool to see. It was only a matter of time before the two worlds met… I don't know about anybody else, but I like dressing up and wearing suits," says Cruz, who recently hired a stylist. Together, they decide on 16 looks for the entire season (he wears suits for away games and business casual for home games).
When Cruz asked her to describe his look, she came up with the phrase "Hollywood actor-meets-sneaker enthusiast"—which aptly captures the style he's sported since he was young. Growing up in Paterson, he says, image was everything. "We wore throwback jerseys all the time with oversized hats, North Face coats and Nike Air Force Ones. The Nikes were big for us, because it defined what kind of person you were, how cool you were," Cruz recalls. "When I was younger, I couldn't afford all those sneakers. My mother was like 'I'm not paying $150 for Jordans. It's not happening!'"
But even though his family struggled to make ends meet at times, they were always put together. "My papí was a stylish dude," Cruz says of his grandfather who helped raise him. "If it was a holiday, he always had on his button-up shirt, his brown slacks, his penny loafers and slicked-back hair." While his father was absent for much of his childhood, Cruz vividly remembers him wearing a white dress shirt, black slacks and suspenders. "He was a jacked dude, so he'd unbutton his shirt to right here," Cruz says, pointing to the middle of his chest. "He was completely on the other side of the fashion spectrum, so it was great."
"They opened my eyes to fashion," he says. "Today I look at certain pieces and I think, My grandfather would wear that, or My dad would wear that this way. It definitely helps me when I try to visualize how I want to wear certain things."
Today, Cruz's chiseled biceps are visible through his slim-fitting white dress shirt. Hanging on the chair beside him is his new Balmain black leather jacket. Is he always so well dressed? Doesn't he ever give in and wear sweats? "You never know when you're going to be asked to take a picture, so I try to dress appropriately whenever I step out of the house," he says. "But I definitely turn it down at home. I wear T-shirts, and I'm always barefoot."
Cruz is only 26, but he's already accomplished more than many people do in a lifetime. He's written a New York Times bestseller, Out of the Blue, an autobiography that chronicles his unusual entry into the NFL. Cruz went undrafted out of college, and he was eventually signed as a free agent by the Giants before the 2010 season. After playing in only five games, he suffered a career-threatening hamstring injury that put him on injured reserve for the rest of the year, but Cruz came back in 2011 with a vengeance. His end zone touchdown salsa, which he learned from his grandmother, became a cultural phenomenon. He has endorsement deals with Pepsi and Campbell's Soup. He's been a presenter at the Grammy Awards—"my knees were shaking a little bit; I couldn't hide behind that helmet," he confesses—and he's attended Fashion Week in Milan twice. He has his own clothing line called Young Whales. But when I ask about his proudest moment, he doesn't mention the book or the commercials or the red carpets. He doesn't even mention the touchdown he scored in the 2012 Super Bowl.
"It was when I graduated college," he says (he graduated from the University of Massachusetts in 2009).
"I had been through so much. I was kicked out twice for poor grades, and even before that I had to go to prep school in Maine for a semester just to get in. I was constantly being told that I wasn't going to make it, that it was a long shot for me to even play football. So for me to fight, to battle through all of that and get a college degree, that was the biggest thing," he says. "That's all I wanted—for my mom to put my degree up on her wall in a frame. Everything else after that was just a bonus." (His father committed suicide in 2007.)
Cruz still talks to his mother, Blanca, every day; he calls her his backbone. "She was a Puerto Rican single mom who wouldn't take no for an answer. Every night I was home for dinner, sitting down at the table and talking about my day. She understood that past a certain hour, especially in the town I grew up in, there was nothing out there for me," he says. "She was great, man. She's the reason that I am the way I am today."
Cruz is currently going through salary negotiations, and he should sign a new agreement with the Giants soon. "It's so stressful," he admits. "When it's over, I might just go to the nearest mountaintop and scream my face off. I can't go anywhere without being asked about it—reporters, fans, Twitter, Instagram. That's all I hear all the time."
He's expected to end up with a multimillion-dollar, multi-year contract—a huge boost over the $540,000 a year he's currently estimated to earn. The first thing he plans to do with the money? Buy a new car for his mom. "And whatever else she wants after that, she can have," he says. He already moved Blanca out of Paterson a year ago. It was something that he and his buddies always dreamed about being able to do someday. But even though she's no longer in Paterson, he still calls it home.
"I go back all the time, whether it's just to drive through the city, go to my favorite restaurants or visit the Boys and Girls Club I used to go to. I walk into the same stores, see the same people, keep the same friends," he says. "I never want people to say, 'Oh, he doesn't know where he came from.' That's one of my biggest fears."
Even though Cruz is very much in his football-playing prime, he often thinks about his future after the NFL. He wants to keep working on his clothing line and on his philanthropic efforts. Recently, he's started to consider acting as an option and he plans on taking classes. "I want to do a movie, man!" he says enthusiastically. "I want to be the first person who has a Super Bowl ring and an Oscar. That would be pretty crazy. We'll see how it goes." (If he were to win an Academy Award, Cruz would actually be the second person to have both honors—Steve Tisch, executive vice president of the Giants, won an Oscar as a co-producer on Forrest Gump.)
After we're finished eating, Cruz helps Kennedy out of her high chair and puts her on the floor. She starts to dance, twisting and shaking her hips, while Cruz and Watley beam proudly. Both of them hope to expand their family someday. "I just want to be a good role model for my children and for everyone who looks up to me as an athlete and as a person," he says. "Someone that kids can look up to and tell their moms, 'Hey, I want to be just like him when I grow up. He came from nothing. He had trials and tribulations that he had to get through, but he succeeded and came out the other end of the tunnel firing. And now look at him.'"