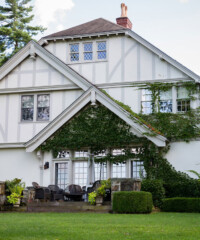 Dorinda Medley's beautiful Blue Stone Manor in Great Barrington, Massachusetts has hosted its fair share of ugly Real Housewives drama. But when it isn't the backdrop to Bethenny calling Luanne "a slut, a liar and a hypocrite and a snake," the rambling property – nicknamed for its massive stone walls – is a tranquil, ivy-covered oasis, which you can enjoy drama-free this Saturday, July 15th at the Lenox Garden Club's House and Garden Tour.
Like any Real Housewives cast member, the house, built in 1904 by Dorinda's grandfather, has faced some harsh criticism from the ladies. Now, guests of the tour can judge for themselves as they are led through several rooms plus the well-manicured backyard overlooking the Berkshire Mountains. 
In addition to Blue Stone, the tour will wend between four rarely seen nearby properties, including one that served as a stop along the Underground Railroad — proving that when you stop and smell the roses there's much more to the Berkshires than reality TV high jinks.