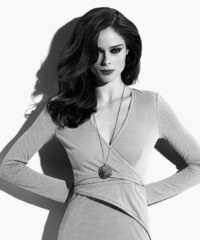 The first thing that strikes you about Coco Rocha is, of course, her face. It has those perfect angles, the sharp, sculpted ones that seem to be a prerequisite for becoming a model. But before you can even process the rest of her otherworldly appearance—her flawless ivory complexion, her piercing blue eyes, her slim yet towering frame—you sense there's a certain depth to her, something a bit more complex.
We've arranged to chat over lunch at a casual cafe-bakery in Manhattan's Flatiron District. She arrives early, having taken the train in from Hastings-on-Hudson, a suburban town in New York's Westchester County. "I honestly don't mind it," she says about taking public transportation. "People do it in any other city. It feels normal." (She and her husband, muralist James Conran, moved there two years ago.)
As she enters the cafe, the 24-year-old doesn't walk so much as float—a skill she picked up from her years on the runway. And if the people sitting at the tables near us don't immediately recognize her, they probably whispered over their turkey sandwiches, "She has to be a model." Today, the massive fur coat, tight black pants and stilettos she's wearing are a dead giveaway.
Her first request is surprising: With autumn in the air, she's in the mood for pumpkin pie today, so would it be OK if she had a slice for lunch? The Canadian-born model has recently wrapped production for Oxygen's The Face, a new reality show (premiering February 12 at 9PM ET/PT) in which young women compete to become the face of Ulta Beauty. The show bills itself as giving a more realistic depiction of the challenges and demands of modeling than America's Next Top Model—a series notorious for its jumping-out-of-planes and posing-with-snakes theatrics. Rocha serves as a mentor and coach for a team of four fledgling models, who compete against squads led by supermodels Naomi Campbell and Karolina Kurkova. Every week, each team competes to win an actual job.
It's an opportunity the thoughtful, soft-spoken Rocha describes as "surreal," and understandably so. Her career—gracing the cover of Vogue, walking the runways at the Paris, Milan and New York fashion shows, appearing in ad campaigns for Chanel and YSL—is unusual for someone like her. Rocha is a devout Jehovah's Witness, as is her husband. "My faith is everything," she declares. Raised by her mother, Rocha has been a Jehovah's Witness her entire life, but she wasn't baptized until 2009—the religion requires that individuals be old enough to make their own decisions before committing.
"There aren't many Witnesses who are in the public eye. I can't even name any," says Rocha, who, despite her fame, still goes door to door with her congregation on a weekly basis to inform people about her faith. (Of those visits, she says, "The whole purpose is to inform people. Some people think we're a pushy religion, but if you're not interested, just say so.") "I know a lot of people in my industry have associated with Witnesses. So, yeah, it's hard sometimes when you're there alone. You're not there with someone who can hold your hand and say we'll do this together."
And in her business she's often felt like she's needed a hand to hold. When Rocha first began modeling at 15 after being discovered during an Irish dance competition in her hometown of Vancouver, she says she frequently felt pressured to compromise her beliefs—which for her means no nudity, lingerie and sheer clothing, among other things. "Early on in my career, people were forcing me to do stuff. I was young and vulnerable. Those people should have had the courage to say, 'Hey, let's not do that.' They'd never ask their kid to do [what they'd ask me to do], but they forget that models are just children. I also should have had the voice to say no. I didn't do it, so I can't blame anyone but myself. That's why I'm so vocal about things today.
"There was a point where I just wanted to be done with the industry," she continues. "I was overtired and overworked, but a big part of it was that no one was listening." Eventually Rocha took a step back to reevaluate the importance of her faith and chose to get baptized at the age of 21. She decided she needed to speak up about what she would and wouldn't do—knowing full well that she'd lose jobs as a result.
"In the beginning, the clients would say, 'This is too much,' but over time, the ones I liked kept working with me. They'd say, 'It's not too much. Coco can still be Coco. She still gives 100 percent when she's on a photo shoot.' It's just my boobs aren't out. And I don't have a cigarette in my hand, and I'm not making out with a guy. And it's all fine if you want to do that. I don't judge. My besties do Victoria's Secret. I just don't do it."
NEXT: "Usually a model gets two to three seasons… For me, it will be 10 years."