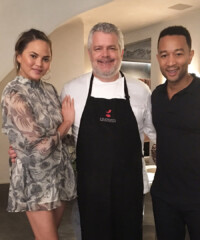 In the classic Us Weekly franchise "Stars—They're Just Like Us," celebrities schlepping groceries are a recurring theme. This trope proves that, just like me, famous people require sustenance to survive. But unlike me, celebrities are also probably filling their shopping carts with top-shelf ingredients and scarcely known delicacies. Similarly, when it comes to the recent wave of meal kit delivery, stars, try as they might, aren't quite just like us – as Chrissy Teigen and John Legend proved recently when they hosted a meal kit dinner party with Crateful at their Beverly Hills home.
While companies like Blue Apron and Fresh Direct have brought fresh ingredient delivery to the masses, Teigen and Legend's authentic Italian meal puts your stir-fry box to shame. Their 8-person dinner featured fresh black truffle Fontina ravioli prepared by Luciano Pellegrini, a consulting chef at Santa Monica's famed Valentino and Crateful's chef-in-residence.
The Los Angeles-based service offers daily breakfast, lunch and dinner showcasing Italian specialties and locally sourced ingredients. And with four menus designed to boost "grace," "wonder," "power" or "mind," each with gluten, dairy, or soy-free options available, the plan has become a daily habit for discerning Hollywood locals like Jaime King and January Jones. And while the full package's $295 per week price tag may not be cheap, it sure is easier than scoring an invite to the Teigen-Legend household.
Main photo by Eclat Public Relations