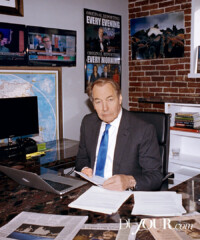 Each weekday between 7 a.m. and 9 a.m., more than 3.5 million viewers welcome a triumvirate of CBS This Morning anchors into their homes. But for Charlie Rose, Gayle King and Norah O'Donnell—the news veterans who host the Tiffany Network's morning show—the day starts long before they arrive at their Midtown Manhattan studio. 
Rose rises at around 3:50 a.m.—"I have multiple alarm clocks, though I generally wake up on my own," he says—and the New York Times lands on his doorstep at about four. By the time he reaches the office, he has already devoured the morning paper and scoured the web in order to stay on top of the important stories. But Rose isn't the only one keeping these hours. 
"My alarm goes off at 3:30," King says, recounting her own routine. "The car picks me up, and I get out of it looking like I couldn't actually work on TV. Then I go into hair and makeup and it's like, abracadabra!" Of course, there's more to getting ready for one of America's most-watched morning shows than just a little bit of cosmetic magic. 
Each day they're on the air, the anchors come in as prepared as possible—news being news, there's always some catching up on world events to do—and meet with producers and talk among themselves. "It's go, go, go, go, go for the first few hours of our morning," O'Donnell says, noting that while each anchor has an office, it's not where the majority of a day's work gets done. "Our office, in many ways, is the set," O'Donnell continues. "That's really where we work."
And it's paying off. The show, which has been on the air for just three years, has found success by bringing more serious stories to the traditionally fluffy morning-show format, living up to its oft-repeated tag line, "The news is back in morning news." (Guests have included weighty newsmakers like Syrian leader Bashar al-Assad, presidential hopeful Ted Cruz and the Dalai Lama.) And while CBS This Morning is still an up-and-comer in comparison with industry juggernauts Today and Good Morning America, it has seen consistent ratings growth: In early 2015, the program was reportedly up nine percent in viewers from the year before. 
This kind of success is no small feat, especially considering the show's hosts do some high-profile moonlighting—Rose on his eponymous PBS series, King at O magazine and O'Donnell as a contributor to 60 Minutes. Still, this trio seems to thrive in the high-intensity environment. 
"It's a pleasure coming to work every day," Rose says. "Gayle and Norah make me better at what I do, because we share a journey and we share a mission."