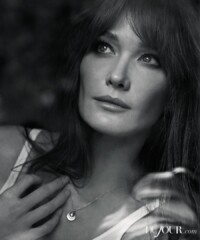 The first thing you notice about Carla Bruni is… her smile. It's an open, knowing grin, one that's captivated fashion designers, photographers, rock stars, filmmakers, even world leaders. But as soon as she begins to speak, you notice something equally beguiling: her voice.
Earlier this year, the Italian-born Bruni released her fourth album, Little French Songs, which showcases that voice and the guitar and songwriting skills that have helped her sell millions of records worldwide. The album is currently at the top of the French charts, pushing Bruni, who's been living the civilian life in Paris—along with husband Nicholas Sarkozy, the former French president, and their 20-month-old daughter, Giulia—back into the limelight.
This month, Bruni sat with her old friend and colleague Helena Christensen, who photographed Bruni for DuJour. Afterward, at the Danish model's West Village home in New York City, they spoke about their lives past (all-night fittings, fast-food binges and glamorous globetrotting) and present (satisfying work, being a parent, Karl Lagerfeld's library). Here are excerpts from their conversation.
Helena Christensen: This is your first album in five years, isn't it?
Carla Bruni: Yes. I'm really slow, so from 2008 to now is not such a big gap for me. Some people make an album every six months, but for Leonard Cohen, sometimes it's every six years. But right now, I'm bringing the record to life, which is the nicest part. When you play live, you make the songs again in another way. They can have a second life.
HC: So when you play live, is every performance different?
CB: You try to toe the line, but it's different every night. Your voice is different, your emotions are different.
HC: It must be so beautiful to have that reaction from the audience, to go through that creative process and then be able to share it with people.
CB: It's really moving, especially when you do quiet music. When you do loud music, there's something about the rhythm, you can see people moving, but there's a lot of noise. When you're silent, you can see the people and it's so scary. Every night, I wish I had a big rock band with the noise and lights. Instead, you can hear my feet walking on the stage.
HC: Do you still suffer from stage fright?
CB: So much! When you have to sing, you really get emotional. Sometimes it comes into my leg, and there's no way to hold it still. I would use it and say to crowds, "My leg and I are so happy to see you tonight." Now I stand.
HC: What's your songwriting process?
CB: I go into my little studio at home, a small room, and I hang out with my guitar for days. I really wait for the songs to come. There isn't much you can force.
HC: You seem very present and real. I saw Suzanne Vega the other day and she did 'Tom's Diner" a capella. I thought of you, because it was something that would work for you and your voice.
CB: Our job in songwriting comes from a very long time ago. Someone would have hired me to go sing to someone she loved. I would sing "Helena wants you back…" and that was a job. Now it's commercial, but there is something special that remains about someone just singing and doing so a capella is getting to the root of that situation. For writing, I get into my studio and I have tons of books and notebooks—I don't do it on a computer because you don't keep what you don't use. And I like to keep everything, page by page, because sometimes you use something left over from another song.
HC: It seems like your songs come from your carnet [French for notebook] and not your computer.
CB: Many other things are useful later on. At my house, I have a beautiful, real poem from Verlaine in his handwriting with many parts [crossed out]. When I read what he wanted to throw away, I want to use it. I want to keep what he put in the garbage, it's so perfect.
HC: Nothing we do is ever the same on a computer—photographs, music, all of those beautiful things. Wait, what is that you're puffing on?
CB: It's steam, with just a little mint. They'll soon make it not allowed, I guess. There is a little nicotine in it, but so little.
HC: It should be way healthier than cigarettes.
CB: The thing is in Europe, everyone smokes again.
HC: You might as well have one of those then. The album's title track name-checks a lot of French musicians. Why are those artists important to you?
CB: They are some classic French songwriters, though some of them have almost nothing to do with my own music. Like Jacques Brel, who's so vibrant! I don't really identify with him, though. Even Edith Piaf, with that voice… My mother once saw her in concert and said she looked 100 years old. Even though she died so young, she looked completely destroyed. My mother saw her at the Olympia and said you could not believe such a voice would come from that body. So that song is an homage. It's not all the people I like, but it's about this French thing. French is hard to sing, but nice to write.
HC: You sing in Italian, too.
CB: Yes, but English has rhythm. Italian has vocals. But French is not easy to sing. You have to use it in a very literal way, with plenty of adjectives. It's very much like poetry.
HC: Your last album sold millions of copies, and this one is at the top of the French charts. I downloaded it for free, but I'll give you some money before you leave.
CB: [Laughing] No, no no.
HC: Was making music while you were First Lady difficult?
CB: People say when my husband was president that it was very difficult for me to be a musician, but I didn't find it to be that way. I played music every day. Music is a shelter; it protects you. It was a nice, productive, pleasant time for me as a musician. It was a contrast with the rest of my public situation.
HC: You probably needed an outlet even more.
CB: Yes, it became so important and I had to protect it.
HC: Did your outside pursuits affect you during your husband's administration?
CB: I was all over the British press when I was going there to meet the Queen. I was naked everywhere. I just got to England with my man, and every single paper had me naked on the cover. But at least I was 24, and I had a good body!
HC: I'm sure the Queen loved them and was like, "Look at this hot chick!" Anyway, no matter what you would have done, they would have found something to talk about.
CB: At least it was a beautiful photo!
HC: What did becoming a mother again almost two years ago do for your music?
CB: It stopped me from writing songs. Even during my first pregnancy, I wrote as long as I could. Some women are really full of energy, but I get really sleepy and weighty, especially in the last months. It's like parenthesis; it's not like my regular lifetime. Then when the baby is born, you need to take care of it.
HC: Has she seen you sing?
CB: Yes, she likes it! And I'm going to bring her on tour with me. She likes music a lot.
HC: She puts two and two together that it's you?
CB: Yes, she likes it. My son [Aurélien Enthoven, 12], he hates it. And I'm glad. At least I'm just sitting singing, not shaking around in hot pants. I remember seeing my parents dancing when I was a small child and thinking, Oh, gross! It's so embarrassing.
HC: We're just embarrassing when they're teenagers. We'll become cool again once they're 18.
MORE:
Julianne Moore: The Most Honest Actress in Hollywood
The Dexterity of Diane Kruger
Kim Kardashian: The Search for the K Factor