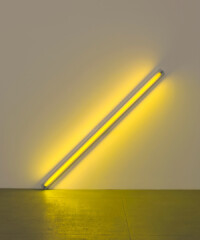 This week, top-tier gallery David Zwirner pledged to reach new strata with a three-story, standalone space projected to open on West 21st Street in 2020 – the culmination of an upward trajectory fueled by experimentalism since the gallery's founding in 1993. That legacy is the subject of "David Zwirner: 25 Years," an exhibit tracing the gallery's Soho roots through an assortment of long-represented artists.
At a preview at his West 19th Street location earlier today, Zwirner reflected on the dizzying changes that a quarter-century brings – both within the art world and without. "In 1993, the art world was basically 99% in Soho; You could go on your lunch hour and see 20 shows. It was a beautiful community," Zwirner says. "I did not have a cell phone; I had to take fax machines with me on vacation in case anything sold."
Beyond modern-day conveniences, when it came to the art world's evolution, Zwirner registered ambivalence. "To put a crasser analogy out there, the highest sale at an auction in 1993 was a $3.8 million Andy Warhol piece – not bad, but compare that to $450 million," adds Zwirner, referring to last year's sale of the so-called "Last da Vinci."
Ironically, Zwirner himself could offer a case study of the art market's ever-changing landscape. In addition to its far-off New York expansion, his gallery will soon open an all-new, Annabelle Sellendorf-designed Hong Kong outpost to meet China's booming arts appetite. But for Zwirner, it's not all about growth. After 25 years and nearly 400 exhibitions, he says his key to success has been artistic collaboration. "We're really committed to the artists we represent and we want to put their vision and their needs front and center," he says.
Selected for their long-standing relationships with the gallery, the artists of "25 Years" read like a contemporary and modern art hall-of-fame, ranging from Jeff Koons to Dan Flavin. "I find it very beautiful that they're back together in this kind of rough space; it brings back memories," says Zwirner, referring to one room in particular filled with the works of Jason Rhoades, Diana Thater, Stan Douglas and James Welling – all of whom rose to prominence under his wing. While the room evokes the gallery's original Greene Street location, is also recalls the art scene's bygone sense of localized community. "Jim [Welling] wasn't with the gallery in 1993," Zwirner adds with a laugh, "but he did live above it."