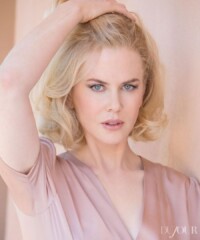 Click here to launch a gallery of photos of Nicole Kidman, shot exclusively for DuJour
When the time came for Nicole Kidman to walk across the stage at New York City's Lincoln Center for the Performing Arts in October, she was luminous. We were packed tight in the auditorium, gathered to pay homage to the Academy Award-winning actress, and she delivered as few others could: wearing a shimmering red L'Wren Scott dress and very high heels. As the applause thundered, a critic sitting next to me murmured, "Kidman carries her own spotlight."
I got to know Nicole Kidman six years ago, when she starred as the legendary photographer Diane Arbus in the movie Fur, which was inspired by my biography of Arbus. I was on the set a lot, watching her work; at breaks we spent time together. I was, of course, deeply impressed.
But that night at Lincoln Center, as the film clips rolled across the screen celebrating her career, I was struck by the variety and richness of her choices—her delight in disguises and in playing women who are not all that sympathetic, like her latest role as the white-trash beauty in The Paperboy. I realized there's a common strand running through Kidman's chameleon-like range: her determination to be a character actress rather than a star. More than most of her contemporaries—Angelina Jolie, Julia Roberts and Sandra Bullock—Kidman takes chances, whether she's playing the town masochist in Lars von Trier's Dogville or wearing a prosthetic nose as the melancholy Virginia Woolf.
It's challenging enough to transform herself for every role. Add to that the ongoing struggle to hold on to her creativity in the midst of being a Hollywood icon, a regular on the red carpet, and a mother. Kidman, 45, can endure because of her control. She keeps her private life private. She reveals, but she conceals, too, which is the paradox of celebrity and great acting.
However, when she wants to be, she is available and open, and I saw this side of her when we talked between filming scenes for her new movie about Grace Kelly in France. Because she'd been working nonstop for months, I asked her if she wasn't exhausted.
"No way!" Kidman said with a laugh. "I'm happier than I've ever been in my life. I'm living in a friend's house in Nice. My two daughters are with me, Sunday Rose, who's 4, and Faith Margaret, who's 2. My mother is about to fly in from Australia to babysit. Then Keith will be arriving…My family is with me. My family" (right, earlier this year).
Listening to her talk in that unmistakably Australian accent was like a continuation of the conversations we'd had during the making of Fur. But she has changed. Back then, Kidman told me she was restless. She'd bought a condo on Perry Street in Manhattan's Greenwich Village but then moved to an apartment in London Terrace because it had a huge indoor pool. For a while she would spend much of her free time in the evenings swimming. She had started to date Keith Urban, and on weekends they would zoom off on his motorcycle and end up in Woodstock. It was the beginning of their romance.
I was impressed by how genuine she was. She was no longer Mrs. Tom Cruise; she was on her own. She'd become a huge star, she was an Oscar winner for The Hours and she'd become an extremely rich woman. She was then the face of Chanel; she'd just finished doing a series of elegant ads for which she reportedly earned $12 million. But despite all the attention and hoopla, she hadn't turned into a narcissistic bore, the way so many people do when they become famous.
And she refused to be pampered, even though on the set she was surrounded by assistants and makeup people whenever I saw her. She was kind and polite to everybody; occasionally she'd glide away and grab two bagels, one for herself, then give the other to her assistant "because you haven't eaten all day."
"Ms. Kidman is the nicest lady I ever had to watch," her bodyguard told me. "I would kill for her." The bodyguard and I would often crowd around the monitor when Nicole was acting in a scene. She would go into a kind of trance, totally inhabiting the character of Arbus, a driven, trailblazing artist who photographed freaks and eccentrics and committed suicide when she was 48.
"I'm attracted to dark material," Nicole explains. "Where the story is full of surprises and twists and turns and the characters get into extreme situations."
That's one of the reasons she agreed to star in The Paperboy, Lee Daniels' outrageously pulpy melodrama, which The New York Times called "a hot mess." In Paperboy, Nicole plays mouthy white-trash Charlotte (below, left), who helps two brothers investigate the case of a convicted murderer on death row. Charlotte happens to be hung up on said murderer and has been corresponding with him. In one shocking scene when she visits him in prison, she masturbates; in others she simulates oral sex. And there is the infamous pee scene, in which she urinates on Zac Efron in an effort to treat a stingray wound.
At Cannes, where the movie first screened, the audience booed and hissed at points but at the end gave it a standing ovation. "Did you know one critic described The Paperboy as the most alienating movie of the year?" I ask.
"That's because Paperboy makes audiences uncomfortable," Nicole says evenly. "But art should be unsettling." She goes on, "I am not interested in playing lovable characters. What I am interested in is playing women who are unconventional. Charlotte is complicated and mysterious and, finally, very tragic. All she wanted was love. She thinks she loves this guy; she has this huge fantasy about him—criminals can seem sexy 'cause they're dangerous."
To research the role, Daniels had Kidman talk to his sister, who also has corresponded with convicts. "She introduced me to a couple of her friends, one of whom had married a convict while he was still in jail. But as soon as he got out, she divorced him."
Kidman enjoyed working with Daniels. "He helped me choose my tacky wardrobe. I did my own makeup. It's moment to moment with him. High energy all the way. The picture was low-budget, so we shot everything very fast. No rehearsals."
They shot the so-called pee scene on the third day (it is only on the screen for a nanosecond, and it's actually quite funny). "Even Lee was a little worried about keeping it in the picture, [but] I told him, 'You made me pee on Zac and if you don't put it in the movie, you're out of your mind!' During the whole shoot I never talked to the rest of the cast. I mean, I was always in character as Charlotte, never Nicole. It worked. We improvised, too—remember the scene where we were dancing? It just happened. We were sitting in the grass, it started to rain, we started to dance—it was the last scene we shot."
Soon after The Paperboy, Kidman filmed a thriller called Stoker, about a mother and daughter obsessed with the same man. Kidman wanted to work with Park Chanwook, the top director in Korea (his film Oldboy won the Grand Prix at Cannes). "We didn't communicate at all. Park doesn't speak English, but he has a translator." Nicole hasn't seen Stoker yet, but I have. She excels in her portrayal of a jealous, grieving widow. Next up: a supporting role in a movie called The Railway Man with Colin Firth, which has just completed shooting in Thailand.
"And now you're in Grace of Monaco?" I said, dizzied by this array of characters.
"Yes, I'll be in France till the end of the year," she replied.
"It's being directed by Olivier Dahan, who directed La Vie en Rose."
"Grace Kelly was a fashion icon of the Fifties," I noted.
"She wore simple, classic clothes—shirtwaist dresses, flowing gowns—and now you're playing Grace and you're a fashion icon."
"Oh, no I'm not!" Kidman protested. "I love fashion, but I don't think I'm fashionable—I mean, not in my private life." In her 20s, Kidman got to know Alexander McQueen and John Galliano and went to their showrooms to support their work. "That's when I fell in love with couture." Nonetheless, she says, "at home I dress for comfort. After all, I am the mother of two small children." I asked her: "When you were growing up, did you ever dream you'd be playing one-of-a-kind women like Princess Grace Kelly and Virginia Woolf and Martha Gellhorn?"
"I have always been a very big dreamer," Nicole laughs.
Nicole Kidman was born on June 20, 1967, to Australian parents living in Hawaii. Her mother, Janelle, is a nursing instructor; her father, Antony, is a biochemist. She has a younger sister, Antonia. Not long after Kidman was born, she and her family moved back to Australia and settled in a middle-class suburb of Sydney.
"We were a close-knit family—still are," she says. She was raised Catholic and remains devout. Growing up, she was strongly influenced by the Ten Commandments, "which I still live by today," she says.
"As kids we were treated like grownups. We discussed all sorts of things. Mother was a feminist—this was during the height of the women's movement, and she was very passionate and very articulate about women not being equal members of society simply because we are women. That's why I am working for the United Nations now as a spokesperson for Unifem. It's in tribute to my mother." Unifem is an organization fighting the prejudice and violence against women around the world.
By the time she was in her teens, Kidman was tall—5-foot-10. She had wild, curly red hair and skin so white she was told not to go out in the sun. She stayed home a lot reading novels, "which were a huge escape for me."
At 13, Kidman began to study acting at the Phillip Street Theatre in Sydney, and later she studied at Victorian College of the Arts in Melbourne, where she met Naomi Watts, who became one of her closest friends. Her parents would have preferred her to go into medicine or law. " 'Don't think we're going to drive you to class,' they said. So I had to take two buses to get there. Which was good. I had to really show them this is what I wanted to do."
She took on all sorts of roles, including Blanche in A Streetcar Named Desire. By the time she graduated from high school, she was working in TV and low-budget movies. She took a summer off to tour in Paris and Amsterdam. That same year her mother was diagnosed with breast cancer, and Kidman stayed with her while she had chemotherapy. "My mother is the most powerful force in my life," she says now. "She's the most influential person. I think my biggest motivation is to make her proud of me."
In 1987 Kidman's career took off with an Australian miniseries called Vietnam. Two years later, she was cast in the film Dead Calm, which required her to outfox, outsail and outfight a psychotic interloper. She was nude in one sequence, and everyone noticed her—including Tom Cruise, who saw Dead Calm in Hollywood and arranged to meet her. At this point Cruise was one of the biggest stars in the world, and he had just divorced Mimi Rogers.
They were married in 1990. She was 23. "I was reeling with Tom. I would have gone to the ends of the earth for him." But looking back on it now, she adds, "I was so impulsive and naïve."
Coming off his blockbusters Top Gun and The Color of Money, he cast her in his movie Days of Thunder and swept her off her feet. "I was totally smitten—I fell madly, passionately in love," she told me without hesitation.
It's hard to imagine how much her life changed after that. She went from being a giddy, free-spirited redhead to the sleek, well-groomed wife of a Hollywood superstar, tirelessly cultivating a celebrity lifestyle on a grand scale (the couple, right, in 1990). They had houses in L.A.'s Pacific Palisades and Telluride, Colorado. There were private planes and limousines and bodyguards and hangers-on and yes-people.
Kidman insists she was happy during most of her marriage, but she was always aware of the glaring spotlight that came with his outsized fame. They were watched constantly. The paparazzi were always ready to pounce. The gossip columns were filled with speculation about them. They became known for their highly controlled public appearances.
"We were in a bubble," she tells me, "just the two of us. We became very dependent on one another." Early on she suffered an ectopic pregnancy, and when she had trouble conceiving again, she and Cruise adopted a daughter, Isabella, in 1992 and a son, Connor, in 1995 (below, left, in January 2012) Cruise continued to star in blockbusters like A Few Good Men. Nicole was in movies too, but she believed her real identity was as Mrs. Tom Cruise. That changed with To Die For, a black comedy directed by Gus Van Sant. Kidman was funny, sexy and rather frightening. She followed it with an equally impressive performance as heiress Isabel Archer in The Portrait of a Lady, directed by Jane Campion.
Suddenly Kidman realized she was fulfilling herself creatively. Finally.
"I hadn't before," she tells me now.
From then on, she was determined to juggle many roles—wife, mother, artist. In 1996 she and Cruise picked up their entire household and moved to London to work with Stanley Kubrick on Eyes Wide Shut, about a married couple who go on a bizarre sexual journey to shake up their marriage.
They were supposed to work on the movie for five months; they ended up being in England for close to two years. When they weren't filming for long hours, Kidman and Cruise would hang out with Kubrick in his huge estate talking about everything under the sun. "Stanley got to know us very well," Kidman says. "He had a way of challenging us, of breaking down our defenses."
I remind her of a long scene midway through the picture where she and Cruise are accusing each other of infidelities.
"You were half-naked and laughing hysterically," I said. "You couldn't stop; you practically fell on the floor laughing."
"Oh, yes!" Kidman exclaims. "I was hysterical. We filmed that particular scene for over three weeks. I think Stanley shot 300 takes! It was an exhausting project, but in the end everyone felt they accomplished something special. I know critics think the movie is dark, but I think there is hope. Stanley was emphasizing the importance of loyalty and commitment in a marriage, that marriage is a relationship that has to transcend sexuality."
Months later the rough cut was screened for them when they were in New York. "It was fantastic, I thought," Kidman says. "I wanted to tell Stanley, but it was late, so I decided I would call him later." The next morning they received word that Kubrick had died in his sleep. "I was devastated." she recalls, then says urgently: "We don't talk enough about death and loss and grieving and how to survive. Death and loss reverberate so much in my work."
The next two years were intense. Kidman had a triumphant run in a play by David Hare in London called The Blue Room, and she repeated that success when the show went to Broadway. Then she spent nine months in Australia with Baz Luhrmann for the musical Moulin Rouge, followed immediately by filming for The Others, a horror story in which she portrayed a terrorized mother trying to care for her two strange little children in a haunted house set on an island. She earned a Golden Globe nomination for each, and won for Moulin Rouge.
In December 2000 Kidman and Cruise celebrated their 10th wedding anniversary with friends. "I thought our life together was perfect," she says. But just two months later, Cruise abruptly announced he was leaving her. The marriage was over. No explanation except an enigmatic "Nic knows why." She pleaded with him to stay, to no avail.
All hell broke loose when the media got wind of the breakup. The press wouldn't leave her alone. She asked her sister to fly in from Australia. She felt she had lost her identity; she was afraid that no one would speak to her now that Tom was gone. For months the press clamored for an explanation. All they got from Kidman was a statement when she appeared on Good Morning America: "I'm a person who carries everything that happens to me in the past into the future. But I refuse to let it make me bitter. I still completely believe in love, and I remain open to anything that will happen to me."
Now she admits, "It took me a very long time to heal. It was a shock to my system."
She braved Cannes when Moulin Rouge opened there in May 2001, even appearing at a lavish party under a giant circus tent to celebrate the picture, which was receiving raves for its lush décor and Kidman's volatile performance.
But she had a difficult time filming The Hours, her next movie. She was in agony during the entire shoot as she embodied the suicidal writer Virginia Woolf, who descends into perpetual melancholy. Her valiant work paid off. The film got impressive reviews, including one in The New York Times for Nicole, which read, "Kidman tunnels like a ferret into the soul of a woman besieged by excruciating bouts of mental illness. As you watch her wrestle with the demon of depression, it's as if its torment has never been shown on the screen before."
For that acclaimed protrayal, Kidman won her third Golden Globe and the Academy Award for best actress of 2002. She was the first Australian actress to win an Oscar, and her emotional acceptance speech emphasized the importance of art: "Why do you come to the Academy Awards when the world is in such turmoil? Because art is important, and because you believe in what you do, and you want to honor that. It's a tradition that needs to be upheld."
Now what she remembers most about that Oscar night is that she went with her parents. She left the ceremony feeling very sad and alone. Kidman admitted to me: "I realized I didn't want to be alone. I wanted to fall in love again, but I wasn't sure I could."
For the next three years, she escaped into her work with movies like Dogville, directed by Lars von Trier on a bare soundstage. She starred in The Human Stain opposite Anthony Hopkins, playing a tough-talking janitor. She made The Stepford Wives, The Interpreter for Sydney Pollack, Bewitched for Nora Ephron.
When she met Keith Urban while filming Fur, she says, "My life changed. He is a wonderful, caring man and he makes me feel secure. We don't ever like to be separated."
They were married on June 25, 2006, in Sydney, and they currently make their home in Nashville, Tennessee, in a big gray house with a pool and tennis court and movie theatre. The couple's first daughter, Sunday Rose Kidman Urban, was born July 7, 2008, in Nashville.
"Having my baby has been a healing experience," she says. "It took me so long to have a child. I feel enormous gratitude. Sunday has healed an enormous amount in me. It's a very private thing, but she just has." Kidman and Urban had their second daughter two years later.
These days, when she's not working and in Nashville, Kidman hosts a weekly baby group with her daughters and other mothers and their children. "We have a wonderful home life," she says (right, the couple in Cannes in May 2012). "There's always music. Keith plays the guitar and piano and drums. He's always composing music. It's lovely when you have a baby who picks up the drumsticks and plays–wearing angel wings." 
I can't help but ask the question: "Your life seems to contain everything now, doesn't it?"
"Oh, yes!" she answers. "And it's my life. Before, I was running away from life. Now I embrace it. You never know how long you have. So I cherish every minute."
Photos (top to bottom): PacificCoastNews.com; Courtesy of Millennium Entertainment; Terry McGinnis/WireImage; Tiffany Rose/WireImage; Valery Hache/AFP/GettyImages