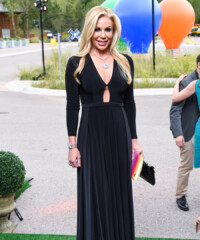 Last week, Aspen Art Museum's annual blowout ArtCrush took over the resort town with a blitz of art-centric events attended by over 600 guests. The nearly weeklong program wrapped up on Friday with the ArtCrush gala at the Buttermilk Ski Area to celebrate this year's honoree, New York artist Lawrence Weiner. Held in a hot air balloon-themed tent, the high-altitude dinner and live auction raised $2.8 million for the Aspen Art Museum. Lots included works by Ed Ruscha, John Giorno, and Peter Fischli/David Weiss, who are currently on view at the museum.
Earlier in the week, ArtCrush event chair Amy Phelan and her husband held a private dinner and wine tasting at their Aspen home, which boasts a knockout art collection of Basquiats, Takashi Murakamis, Jenny Holzers and more. Seated in a tent constructed atop the Phelan's pool, guests of the so-called WineCrush dinner, including Lance Armstrong and Nathalie Marciano, dined on a multi-course meal of braised veal cheek, shrimp bisque, and pistachio parfait.
Phelan, a former Dallas Cowboys cheerleader who splits her time between Park Avenue and Aspen, has hosted the gala dinner for over a decade – luring the likes of Kris Jenner and Stefano Tonchi to her art-filled abode in years past. And if this year's extravaganza was any indication, Aspen's status as a high-flying arts destination is only on the rise.
Main image: Heidi Zuckerman, Lance Armstrong, Jimmie Johnson ©BFA.com Aria Isadora