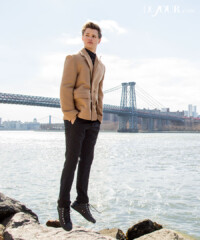 Ansel Elgort has just scarfed down a foot-long sausage, and now he's fidgeting mercilessly. He strums the spokes of a plastic fork, then pushes it aside and begins thump-thump-thumping a beat with his hands on a distressed wooden picnic table.
We're at an airy beer garden in Williamsburg, Brooklyn, a place Elgort frequents—for the sausages, not the beer (he's 20). He recently returned from Austin, Texas, where he spent about two months filming a star-studded comedy, and soon he'll begin the onslaught of press for The Fault in Our Stars, a heart-wrenching drama based on John Green's best-selling YA novel. In the meantime, he's enjoying a month-long break; although in Ansel's world, the word "break" does not exist, and apparently, there is no such thing as sitting still. Aside from his burgeoning acting career, Elgort also produces music (under the DJ alias Ansolo), paints (typically miniature toys), rock climbs (at an indoor climbing gym in Brooklyn) and has a newfound addiction to video games.
Elgort is a self-proclaimed overachiever. "It's just in my blood," says the Manhattan native. "My parents used to tell me I could do whatever I wanted as long as it was productive. They weren't strict but they also did not want [my siblings and me] wasting our time. I play piano, I sing, I dance… I just don't know how anyone could sit around and do nothing."
Elgort's affinity for the arts isn't all that surprising—his father is famed fashion photographer Arthur Elgort and his mother, Grethe Barrett Holby, is an opera director. As a child, he honed his skills by going to work with his parents, performing in his mother's operas and posing for his father's photo shoots. Eventually, the hard work paid off. He made his film debut in last year's reboot of Carrie and starred in the sci-fi blockbuster Divergent. But the young actor's crowning moment is his deeply emotional portrayal of a charismatic 17-year-old cancer survivor in The Fault in Our Stars. "It was definitely my greatest challenge as an actor, but also the thing I am most proud of," says Elgort, who first discovered his love of performing at 13.
Despite his perpetually restless nature, Elgort finds that the most appealing part of acting is "the idea of stillness." He continues, "You can be in front of all these people and there is so much power in stillness. When you're doing a scene and it's quiet, just  talking can be powerful and chilling. That's probably what got to me most."
MORE:
Easy Street: The Breakout Stars of Divergent
The Truth About Paul Pierce
Daniel Radcliffe and the Sorcerer's Stage