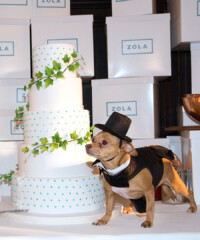 Walking into The Refectory—a breathtaking space lined with original stained glass windows—my knee was nudged by a furry guest wearing a bow tie who apparently wanted his head scratched. As I looked around, the room was filled with dogs, big and small, dressed to the nines and ready to put their best paw forward. The Instagram power pup couple—Toast, a 10-year-old King Charles, and Finn, a 7-year-old dachshund-Chihuahua mix—were to tie the knot in a ceremony of epic proportions.  
The couple, who are both rescue animals, met at a charity gala for the Humane Society in the Hamptons and connected instantly. One fall day in Central Park, Finn (the son of socialite Amanda Hearst) barked up the courage to ask The Fat Jewish, Toast's father, for his daughter's paw in marriage. The rest, as they say, was history. 
In lieu of asking for traditional wedding gifts, Toast and Finn instead invited guests to make contributions toward their charity of choice, the National Mills Rescue, through the wedding registry site Zola. The couple hoped that their A-list wedding would help spread awareness about the inhumane treatment of animals in puppy mills.
So what actually went down at the pup-tials of the century? Click on the gallery above to see all the behind-the-scenes moments.