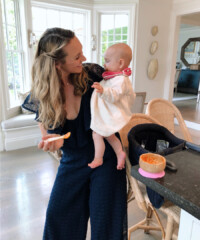 With endless e-commerce outlets available, it can be difficult to find the exact brands and styles that you're searching for. We all know that consumers are craving ease and a faster turnaround for achieving this, as well as actually receiving the items. Enter: Amazon. But, for designer luxury goods, the fashion industry desired a platform that could allow consumers to become their own fashion editors. Enter: Orchard Mile.
We spent the day with one of Orchard Mile's co-founders, Julia LeClair, where we learned more about the specially curated site as well as the physical Orchard Mile pop-up in Martha's Vineyard happening this summer.
LeClair explains that the multi-brand e-commerce site that launched in 2015 with designers like Cynthia Rowley, Lemlem, Parker, Sachin & Babi, Solid & Striped, Temperly London and many more, actually allows shoppers who know what they want to personalize a shopping experience online. "[My Mile] is where you can curate your own personal shopping street. It's for when I like certain brands for certain things. For example, I may love Lemlem for dresses, but I may love Oscar de La Renta for jewelry. You can actually curate your Mile based on those categories," LeClair explains. "Any time I go to my mile it's updated and curated with the very newest items as well as the things that go on sale," she adds.
Though the current shopping trend may be focused on ease and streamlining, there is something desirable about experiential shopping endeavors. Which is why LeClair has organized the Orchard Mile Martha's Vineyard pop-up shop. LeClair says, "It's great to have people come in and see the products and try them on, host sip and shop events and trunk shows; it's a great addition to the website." That's why the Orchard Mile pop-up is actually a concept shop with new brands coming in constantly. As someone who grew up summering on Squibnocket Beach in Martha's Vineyard as a child, LeClair knew that this location was perfect for the Orchard Mile woman.
The shop will be open for the remainder of August, but keep an eye out for more experiential brick-and-mortar events from Orchard Mile in the near future. View the gallery to see what a busy day (with some added relaxation) looks like with Julia LeClair.