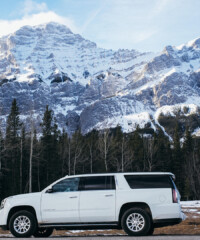 It may be Leonardo DiCaprio who is getting Oscar buzz for his work in the motion picture adaptation of The Revenant, but Alberta, Canada (the film's location) may just steal the spotlight.
The legendary tale of frontiersman Hugh Glass—a fur trapper who was mauled by a large grizzly bear, left for dead by two members of his party and then crawled 200 miles in search of vengeance—actually took place in the Dakotas. But when award-winning director Alejandro González Iñárritu first met with veteran production designer Jack Fisher, he expressed his desire to shoot in a "majestic" place that could convey "spiritual enlightenment through nature."
Fisher and his team, from previous scouting missions, knew that there was no question that they could impress such a feeling in the beautiful untouched forests of Canada's Rocky Mountains. Shooting in the remote locations was not without its challenges, but the resulting effect is absolute. 
Luckily, you do not have to brave nights camping out amongst dangerous predators or subzero temperatures to experience this level of pristine nature. Consider Mount Engadine Lodge, an idyllic lodge retreat nestled comfortably in the Kananaskis mountain range, at your service.
Mount Engadine's staff of knowledgeable wilderness aficionados is there to guide you through your outdoor activities as much or as little as you'd like during your stay—all with that famous Canadian charm. Each day starts with a hearty breakfast as you gather at a communal table with other guests. You'll also place your order for a packed lunch to take out for your day's adventures. Sip your coffee while looking down on the meadow where DiCaprio himself was seen filming scenes from the movie just last year. Then help yourself to a pair of snowshoes and head down one of the many incredible backcountry paths through the nationally preserved wilds of Spray Valley Provincial Park, with entrances just walking distance from the door.
When you return from your awe-inspiring journey, it's tea time at the lodge, where snacks are served as you play board games or enjoy a quiet afternoon with a Jack London novel by the fireplace. Try to save a little room for dinner though, because the portions are fit for the hardy explorer you are. 
If you are partial to warmth, the area is just as breathtaking during the spring and summer months, but it's unlikely you'll appreciate the rustic comforts or untamed terrain to the same caliber. 
In the gallery above, check out a travel diary from a great Alberta adventure.
Main image by: Michael Dumler