With over 80 Michelin star restaurants as well as a bottomless street food scene, Hong Kong cuisine is a compelling mix of high and low. But with over 11,000 restaurants to choose from, it's hard to know where to begin. Enter Geoffrey Wu, Hong Kong resident and owner of culinary PR company Forks and Spoons, shares where to find everything from elaborate 12-course dinners to the best soup dumplings you can shake a chopstick at. Below, Wu breaks down HK's sprawling food scene by price.
The High End
With dozens of Michelin stars sprinkled throughout a 1,000-mile radius, it's not hard to find top tier dining in Hong Kong. But these four fine establishments, according to Wu, are non-negotiable pit stops: Lung King Heen, the first Cantonese restaurant in the world to snag three Michelin stars, serves dumplings decorated with gold leaf; T'ang Court, also boasting three stars, wows with dishes like braised imperial bird's nest with crab and roe in an opulent red-and-gold interior; 8½ Otto e Mezzo Bombana is the only Italian restaurant outside of Italy to receive three Michelin Stars, offers a five-course surf-and-turf dinner including Alaska king crab salad and roasted Australian beef sirloin; and Amber, which blends French techniques with Asian ingredients like the jasmine rice maki, the line-caught turbot or the langoustine served with uni.
Cheap Eats
"Dim sum needs its own food group in Hong Kong," says Wu, who counts Northern Dumpling Yuan as his favorite spot. "It's a little shop in Wan Chai on Queen's Road East and is my ultimate go to comfort food. And the price of the meal is just unbeatable!"
But of course there's no better way to eat cheap than cooking for yourself – and Hong Kong has plenty of fresh food markets for the picking, like Kowloon City Market, where you'll find a great selection of Southeast Asian fruits like lychee, juicy mangos, mangosteen and the ever-controversial durian.
In a place with as many restaurants and Michelin stars as Hong Kong, the local market culture of the city is undeniable. "You can't miss Happy Valley Food Market and Sheung Wan Food Market. They're always stacked with the freshest produce, fish, poultry and meat you can get in Hong Kong as well as some surprises, like homemade cakes, breads and sweets," says Wu.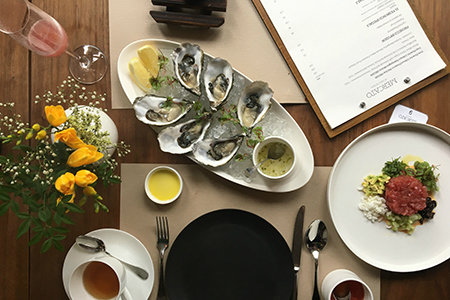 There's also the neighborhood of Lam Kee, home to a host of casual food stands and dim sum spots serving up a blend of Cantonese and countryside Chinese dishes. The dim sum won't come with fancy gold leaves, but it'll be stuffed with succulent seafood and served alongside fall-off-the-bone black bean spareribs and locally brewed teas.
Our Picks
While Wu says his favorite restaurant in the city is tough, there are four places he goes regularly and takes anyone who comes to visit.
First up is VEA, run by Daniel alum Vicky Cheng. "Chef Vicky is incredibly talented and blends the flavors of Chinese and French perfectly," says Wu.
For simple, no-nonsense cooking, Rhoda specializes in free-range chicken and sustainably caught wild fish dishes. "This place is truly spectacular," says Wu.
Then, Seasons by Olivier, the namesake of chef Olivier Elzer, alum of French institutions like L'Atelier de Joël Robuchon and Pierre Restaurant Hong Kong. "It's simple dishes which you can order all day long but the execution and quality is super high," Wu says.
And last, Ho Lee Fook, which translates to "good fortune for your mouth." "Dining in Chinese restaurants can often be very stuffy but not here," says Wu. "It showcases the flavors we love in Cantonese cooking in a way that everyone people can enjoy."