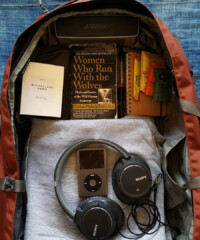 When Joy Bryant—the model and actress most recently recognized from a spot on HBO's "Girls'" final season and her starring role as Jasmine Trussell in 2015's "Parenthood" —thinks about the environment, there's a simple phrase that comes to mind. "Earth clearly has something to say about the way we've been treating her and treating each other," she says. "So if you imagine Earth wrote a little note to us it would probably say, 'Get it together people, seriously.'"
Bryant isn't one to shy away from polarizing topics—like, for example, her penned Lenny Letter about the expectations of motherhood—and the environment is of no exception, especially considering Basic Terrain, the fully functional, ready-to-wear fashion line that embodies Bryant and her husband/stuntman Dave Pope's "love of travel, adventure, and laid back living."
Ten percent of Basic Terrain's proceeds go to organizations who fight "the good fight" of environmental protection and awareness; the "Get It Together" tee in particular is the first in a series of "call to action" t-shirts coming out in 2017, this piece's proceeds going to the environmental law powerhouse Earthjustice. Truly, when Bryant declares that we should, "get it together," she means it in full force: in both the way she leads her every day life as well as through the fashion enterprise she's building alongside her and her husband's seasoned Hollywood career.
Upon discovering her husband's gift for sewing three years ago, a secret talent that delightfully deviated from the jock-ish, "Evel Knievel" she originally married, the pair set out to make their authentic mark in the fashion world. "It's been sort of defining what success means to us," she says. "Being $100-millionaires would be great, I'm not gonna lie, but there's something cool about us being a small company and growing organically with the kinds of things that we feel really strongly about."
Today the duo has set their focus on e-commerce and the line is currently sold on the Basic Terrain site, as well as shopping websites like ShopBop and Lyst. In her work with Basic Terrain, or just living every day life, the environment is constantly on Bryant's mind. And still, she says, she's learning how to get it together along with the rest of us. 
"It's all connected between how we treat each other and how we treat the Earth," Bryant says. "And [we should] treat the Earth with respect and decency. For me, it starts with mindfulness about your impact and your imprint, whether it be from the food you buy and/or waste (and I'm definitely guilty of that) to how we consume energy." 
Main Image: Courtesy of Basic Terrain