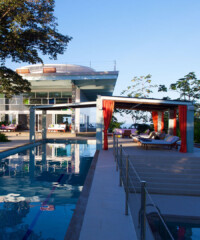 It's not hard to feel like you may have stumbled into an episode of Lost on Isla Simca, and not just because of the howler monkeys. Their howl—a cross between a gang of barking dogs and a strong wind cutting through a canyon—bounces between the hills and valleys of this small private island off the Western coast of Panama.
Upon arriving, however, you'll notice the surrealism of the island's main complex. Perched up high in the center of the forest, rather than lounging lazily on the beach below, it looks as if Apple designed a tree house that was refurbished by a quirky nightclub owner and then invaded by an art collector. It is, in fact, the vision of Jean Pigozzi, an Italian philanthropist and photographer, whose joie de vivre infuses every corner.
In 2012, Pigozzi invited Abercrombie & Kent, a high-end experiential travel company that pairs adventure and luxury, to manage the property, which is now listed as a private charter. Essentially, you rent Pigozzi's villa and get exclusive use of the 278-acres that surround it—17 private beaches included.
The main complex, which claims to house the largest collection of contemporary African art in the world, consists of a multi-level network of guestrooms (sleeping up to 36 comfortably), lookout decks, two salt-water pools and a cinema.
Though it blends in during the day, the house is unabashedly flamboyant at night: The walls literally light up in alternating blocks of red, green and blue; interior neon artwork adds a purplish glow. It's as bright, brash and perplexing as it sounds, but it's a further reminder that this isn't some hotel styled to a generic sense of taste but rather the home of a man with very individual flair. And you are his guest.
Abercrombie & Kent spent the past year sprucing up the place—upgrading guest amenities, training new staff (a mix of locals and imports, all incredibly pleasant and helpful) and beefing up activities, which include miles of new walking and cycling trails, a herd of kayaks, a pack of jet skis and a "toy shed" of all-terrain vehicles (from which this writer promptly flung himself, becoming gracefully entangled in a thicket of vines).
Your guide to these gadgets and the surrounding wilderness is Garth Hovell, managing director of Abercrombie & Kent Panama, who is part Crocodile Dundee, part Indiana Jones and part Willy Wonka. He and his wife Lindsay (think Gwyneth Paltrow meets Mary Poppins) serve as your hosts and points of contact for every question from "what's for dinner?" to "what's that bird?"
A hike through Isla Simca or visit to the nearby national park island of Coiba (40 minutes by boat) with Garth is the entertaining, anecdote-fueled, educationally rich field trip you wish you had in high school. His gusto reawakens a long-lost, giddy sense of discovery.
(Scuba diving is also offered for a supplemental cost; the experience, led by Smithsonian-affiliated master diver Kevan Mantell, a gentle British ex-pat now living in Pixvae with a permanent tan, is a must.)
Lest you forget that you have chartered an island with staff, chef and an eye to luxury, there are moments to remind you. On occasion, you will turn a corner and stumble upon an elegantly set table on the lip of a white-sand beach or along the river in a mangrove forest with a large picnic lunch that includes salads, fish, meats and dessert. (House wine is included in the cost, though you're welcome to bring your own. And back at the main house, a full bar is at your disposal.)
Most of the food served on Isla Simca is either grown on site or locally sourced or even self-caught (on a sundown fishing excursion, we reeled in a gorgeous 32-pound wahoo that became spicy fish tacos the next day). Isla Simca grows many of its own fruits and vegetables, raises its own chickens and ducks and even produces its own honey. Auntie Elvia bakes the fresh bread; her husband brings in the fresh seafood.
Nearly every meal was enjoyed al fresco. From just before Christmas to just after New Year's, we had embarrassingly perfect weather; hardly a light sweater was needed in the evenings. As Garth put it, "The most boring thing about Panama is the weather," which is true roughly from the end of December through mid-April, at peak season.
The experience overall feels like a cruise, safari and beach resort melded together. It can be a daiquiri-by-the-pool kind of vacation, but those with an appreciation for nature have a real garden of earthly delights within reach. The howler monkeys will make sure to remind you.
 The Details:
How to get there: To get to Isla Simca, you can fly into Panama City and charter a one-hour flight to a private, grass landing strip in the village of Pixvae (operated by Abercrombie & Kent); it is not recommended to drive from Panama City. From Pixvae, a half hour boat ride brings you to the island's base. You can also yacht or helicopter in.
Climate: Peak season is mid-December through mid-April. May, June and July are still pleasant; August through November is the rainy season.
Cost: Determined by number of guests, length of stay and time of year. For more information or a quote, contact Adam Coats at Abercrombie & Kent Villas: info@akvillas.com.
Explore the island of Isla Simca in the gallery above.