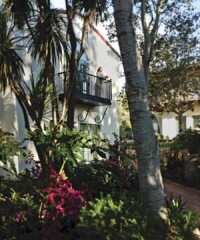 In the 1950s, El Encanto—a seven-acre property nestled in the hills of Santa Barbara, California—was a favorite retreat for motion-picture royalty and politicians alike. Clark Gable and Carole Lombard stayed there; so did FDR. With expansive views of the Pacific Ocean, it was the perfect spot to enjoy this stretch of the celebrated "American Riviera."
Now that's true once again. Shuttered for seven years, El Encanto re-opened in late March, thanks to Orient-Express Hotels which poured millions into a renovation that celebrates luxury while honoring the area's homespun sensibility. Each of the 92 picture-perfect bungalows offer indulgent soaking tubs and rain showers, and the hotel's infinity pool is heated to a welcoming 85 degrees year round. Snack on the local pistachios from the mini bar, and take a delightful nap by the pool or go to the hotel spa and enjoy a decadent, 80-minute deep tissue massage.
At cocktail time, go to the hotel restaurant and order a dozen oysters and chase it with the The Charmer—an El Encanto specialty made with grapefruit vodka, St. Germain, fresh lime juice and simple syrup. If you wonder why the menu has sashimi and hamachi and a special Japanese breakfast, it's because chef Patrice Martineau spent four years as the chef de cuisine at PETER at the Peninsula Tokyo. But though the inspiration for the fare may be far-flung, the wine list is deliciously local. So are the herbs in the drinks and food, which is plucked from the property's charming on-site garden.
Like all good retreats, a weekend in Santa Barbara is a mix of the high and low. On your second night, head downtown to the celebrated taco joint, La Super Rica—a no frills, walk-up shack beloved by foodies. Order guacamole and two bistec tacos; afterward, head to nearby McConnell's for peppermint ice cream. (If there's another ice cream parlor where Bill Clinton, George W. Bush, Taylor Swift and Oprah Winfrey have all snacked, we haven't heard of it.)
On your way to check out, be sure to admire the Damien Hirst piece by the front desk and then drop a penny in the hotel's wishing well. Why not? Who knows what old Hollywood magic is still at work here?
Rooms start at $525 per night. Click through the gallery to see photos. For reservations, visit elencanto.com