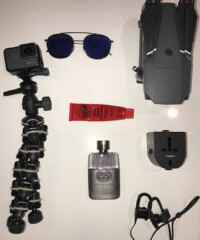 DJ Ruckus (née Gregory Andrews) has certainly achieved great heights in terms of his career as an open format DJ—he was knighted "the most sought-after DJ in the world" by GQ, after all—but that doesn't exempt the 32-year-old from doing one thing we can all reminisce about: homework. Although, his kind of homework is decidedly extracurricular.
"You gotta listen to what's going on locally," Ruckus says. "Every place is different— from Northern and Southern California to Bali." Ruckus has played just about every club in the industry (not to mention more intimate gigs like P Diddy's birthday party) and because he does embrace the open format method (crossing between genres during a set) he's constantly tapping in to what's "in," what's "out," and what's "what." "Music is about bringing everyone together," he says. "It's embedded in everybody in some way. So no matter where you land, it's surprising to see how those songs or genres are different."
His homework also includes paying attention to all kinds of things—like, for example, a TLC documentary that came out in 2013 and subsequently sent "Scrubs" back to the top of his set list that summer. Or the fact that a crowd's taste in music depends on what club and city you're in. "When you start playing Vegas as much as I do, you understand that it's not a whole bunch of cerebral music but instead what's most fun. [Whereas] in New York you get a little bit more of a sophisticated crowd." In Mexico City there's a calling for Bon Jovi and ACDC; in Brazil the crowds want funk. And it's no coincidence that certain artists frequent some cities more than others, which is something Ruckus keeps his finger on too. 
It's a demanding lifestyle, particularly for a married man—which Ruckus is soon to be. The DJ recently proposed to his girlfriend, the supermodel Shanina Shaik, but he says he's not worried; for him, tying the knot won't keep him tied down. "There are only a couple guys out here that are married with kids, you know, the whole thing," he says. "It's a tough thing with our travel and the lifestyle—there's the stigma that goes around where [marriage] is something people wouldn't expect. But I found the right girl; she understands what I go through and she's got a similar lifestyle. We mesh. And so I decided to make the right decision." And although the wedding date is mum for now, there is one thing Ruckus will share about his and Shaik's big day: he will not be the DJ at his own wedding. Although, with a fully stocked bar and a steady flow of champagne, he jokes, you never know.
Main Image: Camilo Rios White