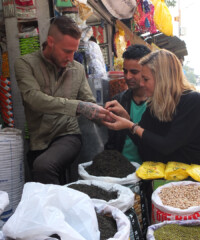 On the new Travel Channel series Breaking Borders, which premiered this week, journalist Mariana van Zeller and chef (and Top Chef champion) Michael Voltaggio are paired up to travel the globe, visiting conflicted areas and attempting to address the problems they face with a very simple gesture: dinner. 
From the Middle East to the Emerald Isle, the pair gathers not-so-likeminded locals and brings them together for a meal made with local ingredients—sometimes the likes of which Voltaggio has never before used and often made in less-than-modern kitchens—in an attempt to make each international conflict seem a little more human.
Here, van Zeller and Voltaggio share photos from their trip around and world while exploring what made each stop so memorable.