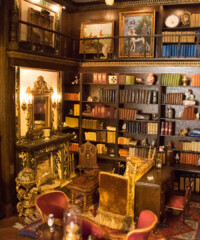 Feast your eyes on the dollhouse of your childhood dreams, one that's valued and insured at $8.5 million.
The Astolat Dollhouse Castle, designed and built over the span of 13 years by renowned miniaturist Elaine Diehl in the 1980s, features 29 rooms filled with 10,000 expertly-crafted miniature pieces—think: a $5,000 flatware set, a readable 100-year-old book, a functioning piano, gold-framed mirrors, fireplaces and oil paintings—spanning seven levels. But that's not all. The handmade Victorian-style dollhouse—equipped with a library, music room, wine cellar, grand ballroom, armory and more—is nine feet tall, fully wired and is equipped with plumbing.
Click through the attached gallery to see photos inside the world's most valuable dollhouse, and be sure to get a rare up-close look at the exquisite structure at The Shops of Columbus Circle at Time Warner Center, where it will be on public display through December 8.