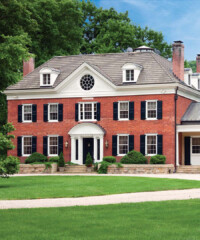 Since the colonial era, the Hudson Valley has lured Manhattan's moneyed set north with the one thing there's never enough of in the city: land. From the remnants of Dutch farm estates that once sprawled tens of thousands of acres to the idyllic riverside parcels favored by Gilded Age tycoons, the Hudson Valley remains one of the few places where aspiring land barons can still buy hundreds of acres within striking distance of New York City.
"There are still some really significant estate properties available in Westchester and Putnam counties," says Jennifer Bonnar, of William Raveis. One such showstopper currently on the market is a 262-acre estate in Pound Ridge asking $75 million that comes with an eight-bedroom mansion, formal gardens and an outdoor chessboard with person-size pieces.
The availability of such large parcels may change in coming years, however, as city housing prices and population growth increase development pressure in the region, which has already become a popular landing pad for priced-out Brooklynites. 
"In some communities, they've developed a culture of conservation," says Steve Rosenberg, the senior vice president of conservation nonprofit Scenic Hudson. "But I think it's clear that no matter where undeveloped land is, you can't take for granted that it will remain."
Still, for those who have their heart set on playing the part of a Hudson Valley land baron, brokers say that properties ranging from 75 to 750 acres can still be found throughout the region—with more opportunities and lower price points as one moves north into Columbia and Ulster counties. Of course, sales price is just the first expense—when buying several hundred acres, one must also factor in the not-insignificant cost of staff to look after them.
"People want a sense of escape and protection—it's often people in the public eye or with busy lives on a global level that are interested in these properties," says Bonnar. "The other thing they're looking for is prestige." 
"I think the initial ideal for a lot of buyers is total privacy—they surround themselves with acreage to ensure that no one can build close to them," says Houlihan Lawrence broker John Friend, who currently has a listing for a 466-acre estate in Poughquag that made up the better part of the old J.C. Penney estate. He adds that many such properties, among them Bogardus Hall, a 132-acre Dutchess County estate that is on the market for $7.5 million, are already placed in land-conservancy trusts.
"Mind you, even farms like Bogardus were at one time part of much larger estates," Friend says. "And any time you get closer to the city, finding acreage becomes more and more difficult, because over the years it's been subdivided and built up."
To wit, Cathy Workman, another broker with Houlihan Lawrence, has an undeveloped 104-acre listing in Pound Ridge with second- and third-growth deciduous forests that she sees as perfect "for someone seeking a great trophy property and to create a one-of-a-kind estate," which also offers an approved subdivision plan. The sellers did, however, take care to create several open-space parcels totaling some 39 acres.
Yet brokers caution that while brooks, rivers and scenic streams can be found on many large parcels, buyers who insist on an actual Hudson River estate may have to settle for a smaller spread. "We have some beautiful historic properties along the river," says Heather Croner of Sotheby's International Realty, which currently has a listing for a 3.6-acre riverfront estate in Croton-on-Hudson. "But large properties rarely come up for sale. Frankly, they're all occupied."