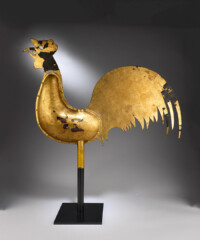 Where can you find a Thomas Chippendale gilded mirror and a weathervane shaped like a rooster under the same roof? At the 2018 Winter Antiques Show, which opened on Friday at the Park Avenue Armory.
For the fair's 64th edition, 70 of the nation's top antiques dealers have mounted a dizzying array of treasures, from fine jewelry to rare books, dating from prehistory to present day.
While the merch may be fragile, the annual tradition remains a stronghold in the interior design world, attracting power collectors and top designers each year. At this year's opening night, everyone from Martha Steward to Nicky Hilton passed through.
But the centerpiece of the Winter Antique Show's weeklong program will be the Young Collectors Night gala on Thursday, January 24. True to its mission to mix fresh-blooded collectors with blue-chip experts, the annual affair will honor designer Zac Posen, who took over as creative director of Brooks Brothers women's wear in 2016. Proceeds from the evening, which will host over 100 interior designers from Tony Ingrao and Randy Kemper to Bunny Williams, benefit the East Side House Settlement, a South Bronx-based education nonprofit.
Click through the gallery to see highlights from the 2018 Winter Antiques Show.