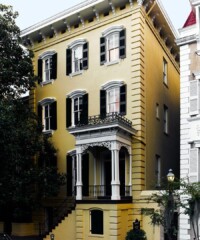 When Robert Duffy first visited Savannah, Georgia, three decades ago, it reminded him of Paris, a city he had become well acquainted with as the president of Marc Jacobs International. "It was very grand," says Duffy of the Southern town dotted with elegant squares, old churches and Spanish moss-draped trees. "But I also liked the smell and dampness of the place. It was very gothic and mysterious too." Savannah is probably best known for John Berendt's 1994 bestseller, Midnight in the Garden of Good and Evil, which tells the true story of the late Jim Williams, an antiques dealer accused of murdering his assistant and lover, Danny Hansford, in 1981. Williams had decorated the 1872 Italianate William Hunter House, which Duffy purchased in 2010. "I wasn't really looking," says the fashion executive, who owned another property just across the way on Monterey Square the prior three years. "But then it came on the market, and it had more outdoor space so I could put in a lap pool" (above).
A pool was about as extreme as things would get when it came to renovations. Enlisting his longtime collaborator Richard McGeehan, a Manhattan-based interior designer, Duffy's agenda consisted of minimal changes to the 8,500-square-foot mansion. "There had been a pretty good renovation in the '90s, so it allowed us to keep a lot of the place intact," explains McGeehan, who had worked on various spaces for Duffy in New York City and Provincetown, Massachusetts. "Robert wanted the place to feel lived in, already settled when he moved in. It was slightly confounding as a decorator because I had to pull back."
Still, there was some substantial structural work to be done on the landmarked property: The grand staircase had to be rebuilt, the fireplaces relined, the skylight restored and various trees moved about.
While Duffy put in a 45-foot-long saltwater pool and a state-of-the-art gym, he kept other things untouched—like the pine-plank floors and the original room colors. "He liked that the paint didn't look brand new," recalls McGeehan. "And when we were buying a lot of the antique pieces for the house, he insisted on keeping the original fabrics—he even liked the water stains! He had a real sensitivity to the old bones."
Duffy will casually toss off words like eclectic and decrepit to describe the style of his house, but McGeehan quickly insists that his client's aesthetic is much more refined than that. "He knows his furniture," says McGeehan. Duffy supplemented the trove of furnishings he shipped from up north with pieces from local shops like Peridot Antiques, Jere's Antiques and Arthur Smith Antiques. His art collection is nothing to sniff at either—there are paintings by Robert Motherwell and abstract expressionist Hans Hofmann throughout the house.
This combination of relaxed attitude and respect for tradition seems to reflect Duffy's general feeling toward his adopted city, which has become the winter home for him and his 14-month-old daughter, Victoria (below). When Duffy's here, which is usually during the holidays and the stretches between the New York and Paris fashion collections, he slows down the pace. "I'm in the pool a lot with my daughter; I go on bike rides, maybe to the beach, but I like staying inside the house—just moving from room to room. On Cape Cod, I'm on the boat, and in New York, well, I'm out. When I'm here, I like being at home." Whether it's sketching in the library or watching the trolleys full of tourists from his porch, Duffy enjoys a quieter existence in Savannah.
No matter—you can take the fast-talking, hardworking man out of New York, but you can't take the New York out of the man. In 2007, Duffy opened a Marc Jacobs store on West Broughton Street, which he staffs with students from nearby SCAD, the Savannah College of Art and Design. Duffy and Jacobs are heavily involved in the school, which has been instrumental in preserving this Southern town. "Every school year, I ask the faculty to give me their best and brightest. The kids love it because they can work part time and they get a discount on the clothes. I consider SCAD my human resources department—after four years, some of them come to New York to work with us."
And when his friends from New York come down to visit, Duffy equips them with a map ofthe city and bikes to go check out the attractions— churches, monuments and gravesites of the many eccentric individuals who have called Savannah home over the years. It's fitting that their sightseeing could lead them back to Duffy's place. As McGeehan explains, "The city is full of characters, and Robert just might be one of them nowadays."