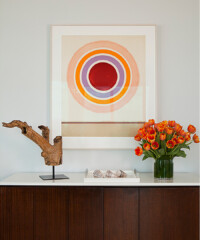 Having already decorated homes in Southampton and Manhattan for a retired Wall Street executive and his philanthropist wife, veteran New York–based interior designer David Scott approached the couple's Miami Beach pied-à-terre with a dash of intimacy. That intention is apparent in the oceanfront three-bedroom, four-and-a-half-bath residence's confident interiors, which combine luxurious materials and fixtures with a casual, ready-to-wear vibe.
"We have a very fluid relationship from working together for so many years," Scott says of the clients, a couple with two grown daughters. "So I understand exactly what it is that they both like." 
The first matter of business for the 17th-floor U-shaped aerie—the product of three combined units in a full-service, high-profile building—was to seamlessly unify the separate living spaces. Scott and his team started with the floors, which they ripped out of the previously "dark, moody, Asian kind of place," he says, and replaced with poured concrete, lending the rooms a loft-like feel. Placing rugs over the floors helped achieve a space conducive to padding about in bare feet and casual beachwear, as did the use of outdoor fabrics on several interior pieces.
It was critical that the decor not compete with stunning views of the ocean, seen through expansive floor-to-ceiling glass walls, so the choice of color—or lack thereof—played an important, if supporting, role. The walls and textiles needed to reflect "the colors of the sea," Scott explains, "a kind of neutral palette, with an aqua-blue that we use in various different ways throughout." Among the primary items selected for the home were a set of Art Deco–style white-and-chrome chairs and a large photograph by Doug and Mike Starn, "Big Bambú," which comprises the apartment's signature accent hues: shades of blue and tan. "We basically said, 'Let's go from the look of this,' " Scott says of the photograph. "You can the see the palette developed from that."
Entering the residence, one walks through a foyer, paneled in weathered teak, which opens directly into a large central living space, offering views in three directions. Because the owners like to entertain when they're in town, Scott wanted to open up the living room to create a social flow, but he had to work around two massive load-bearing columns. By installing a daybed between the monoliths, "it acted as a bridge between the media area and the main living space," he explains. "You can sit on both sides; you can take a nap there."
A noteworthy lighting designer, Nathan Orsman of Orsman Design, devised an illumination plan using mostly matte-white fixtures—including ceiling-mounted cones above the bar area and in the hallway reading nook and cast-resin circular chandeliers with a plaster finish. 
Scott and the owners dotted the apartment with a few unexpected, eye-catching finds, too. A white-metal credenza, which disguises media equipment, is covered with foldout human figures and was designed by Belgium-based Isolde Pringiers. "It's really kind of genius," Scott says of the whimsical piece. And in the dining area, a bright "target" painting by Kenneth Noland was purchased at auction from the estate of famed restaurateur Elaine Kaufman. 
Tucked back in a side wing, the bedrooms feel far removed from the main gathering areas, and they feature fabrics in even more soothing, monochromatic tones—textured ivories, beiges, a rare touch of blue. Organic shapes stand out against modern rectilinear pieces. "I wanted it to be very creamy," Scott says of the sanctuary-like master. "Smooth leather and bone on the nightstands to wool in the curtains—things that I felt were very beachy and sculptural."