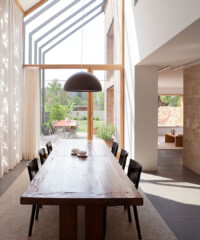 While most boys spend their childhood building houses with Legos, Chad Oppenheim was thinking on a larger scale. At seven years old, the New Jersey native jump-started his architecture career by helping his parents build their custom dream home. "After dinner, we would clear the kitchen table, fold out the plans and start dreaming up all these wonderful possibilities of how we can enhance our life," recalls Oppenheim. It was only a matter of time before the soon-to-be starchitect started drawing his own houses. "To this day, I feel like I'm doing that same thing—dreaming up these incredible places for people to live, visit, stay and work in," he adds.
Today, Oppenheim's portfolio is as diverse as they come. He works in various scales and typologies, from homes and multi-family residential projects to office buildings, hotels and resorts, in locations that span the deserts in Jordan and Qatar and the jungles of Costa Rica to a remote island in Haiti. Not to mention, his resume boasts an array of A-list clients—or collaborators, as he calls them—including director Michael Bay, Disney, Pixar, hotel visionaries like the Hard Rock Café's Peter Morton and Karl Lagerfeld. "One minute I might be talking about the detail of how a door meets a wall and the next minute someone might come into my office and ask how we move this highway in the city that we're designing," he says.
But while the building details might change, one philosophy carries throughout his work. "It's always about celebrating and respecting the beauty of nature and letting the architecture sit in the background," he says. "We ask: How can we serve, celebrate and preserve the environment? How can we support and grow local communities and design for the whole ecosystem rather than just a great project that's creating a beautiful environment.'"
Case-in-point: his recent collaboration with Pharrell, which focuses on revitalizing Ice Cream City, a historical, socio-economically oppressed complex in Miami. Oppenheim tackles this project (still a work in progress) by aiming to retain the character of the place and building a community without gentrifying it. "It's more about how we can raise the people up through design—how can this architecture rebuild and support the community," he says.
Of his process, Oppenheim says, "It's like an archeology project. You have to find the truth that's hidden under the dirt." For him, that means starting on-site, studying the path of the sun, where the breezes are and really connecting to it. "Nowadays, architecture is a lot about who can have the cooler building, but there was a time when buildings were made of the materials that surrounded the space that they were built in. It was less stylized and more inherent to the place. We want to connect people back to that." Here, check out a few of those projects.