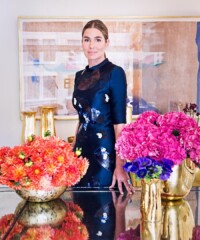 Nearly four decades have passed, but Aerin Lauder can still vividly remember the smell of her grandmother's home. For some, the mention of a visit to Nana's might conjure memories of mothballs and plastic-covered furniture—but not when your grandmother is beauty titan Estée Lauder.
"She would always have fresh tuberose in the hallway," she says. "I just rememberhow 
luxurious they looked…and they smelled so delicious."
Aerin, of course, has followed in her grandmother's footsteps—she's currently the style and image director for Estée Lauder and also heads her own subsidiary beauty line. Still, the 42-year-old explains that interior décor is actually her true calling. "I say that beauty and fragrance are my heritage but accessories and home are my passion. In college, I remember filling my room with all these fabric ads and images from magazines. I've always loved decorating and style and home. It's a very big part of my life."
This month, the New York-based Lauder launches a 35-piece home collection as part of her lifestyle brand AERIN. The items—many of which are gold-toned—range in price from $60 for a terra-cotta turtle dove to $1,350 for a handmade Italian crystal and 24-karat gold bowl.
Lauder, who describes her home style as "feminine, timeless and comfortable," has spent years attending and throwing fabulous parties, and she's always had difficulty finding the perfect hostess presents. Just like her savvy grandmother, who saw a need in the market for beautiful makeup that women could apply themselves, Lauder has identified her own niche. "I saw there was a real opportunity for products that have a special, luxurious feel at the right price," she says. "The pieces are giftable, but they're very desirable to get for yourself as well."
Each piece is designed to be multifunctional. The gold bowls, for example, can be used as containers to hold flowers or candy, but they can also stand empty as striking
table centerpieces. "What's so much fun about all the gold pieces is that it's a great, modern neutral. It goes well with any color wall, furniture and flower, from rose-purple dahlias to red peonies."
Besides her experiences as a party host and guest, Lauder also drew inspiration for her collection from her travels, most specifically the"beautiful country styles of Austria," where she lived for a few years while her father, Ronald S. Lauder, served as the U.S. ambassador. "The influences come from my life—from being exposed to different cultures and living in different cities, as well as Estée being an entertaining icon," she says. "It's a little bit from my heritage, and a little bit from what I've learned and discovered on my own."
The usually unruffled Lauder admits that she feels "nervous and excited" about launching this new line. But if her own experience is any indication, the collection should be a design hit. "Living with the pieces in my home, every day I like them more and more." 
Photos: Mimi Ritzen Crawford; Hair and makeup: Paul Podlucky

Top right: Geo Bowls, $550, Aerin.com
Center left: Flecked Gold Crystal Bowl, $1,050, Aerin.com
Bottom right: Smooth Bowl, $700, Aerin.com