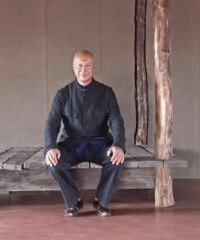 When it comes to creating his world-renowned spaces, Belgium-based interior designer Axel Vervoordt has one guiding principle: "The only decoration is proportion," he says flatly. No one does proportion like Mother Nature, and Vervoordt's designs benefit from his daily observations of the outdoors. He begins his day riding his horse or walking in the sculpted gardens on the grounds of the castle outside Antwerp that houses his company.
The exacting attention to scale and the natural aesthetic of his 50-room Gravenwezel Castle have inspired a style revolution that's taken root in sophisticated homes across the globe. More and more, interior designers are taking cues from Vervoordt and using nature-inspired materials, organic shapes and neutral tones, with the goal of creating spaces that foster peace and serenity. Think of it as urban Zen with a Belgian twist. The trend has reached critical mass with a new Belgium-inspired Restoration Hardware line.
Few do it as effortlessly as Vervoordt. A notable antiques dealer for more than four decades, he fashions interiors that are warm and welcoming, modern and harmonious—with an unfailing focus on clean lines and nature-inspired forms. He also has an uncanny way of mixing old and new, and melding natural materials with outstanding craftsmanship.
Take the low, slate-topped coffee table in his own exquisite collection of home furnishings: It's hand-polished and bestowed with engraved details that enhance rather than detract from the material's inherent beauty.
"I didn't tell the stone what to do; I asked it, 'What would you do?'" says Vervoordt of the table. "After all, humans shouldn't run nature. Nature should run us."
Vervoordt is happy being a Renaissance man in the field of design. Spend just a little time talking with him and you can see he'd actually have it no other way. "I don't want to limit my inspiration to old or new, Eastern or Western," he notes. "I find in antiques what looks contemporary. I find in contemporary what is totally timeless."
Nowhere is this more evident than in his ongoing redesign of the rooftop penthouse of Robert De Niro's Greenwich Hotel in Tribeca, which he calls an "artistic installation" atop the hotel. A number of details are secretive, but he gives a clue. "We're going to use as many recycled materials found in New York as possible."
All told: "It will be a place of soul, peace and silence in the middle of Manhattan. It'll feel like going to a monastery in Japan… but in a New York City way." Well, New York City by way of Antwerp.