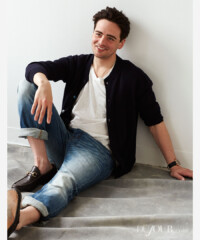 What some actors might find terrifying, Vincent Piazza considers thrilling. Take, for example, an opportunity to star in a huge summer movie, as a real person known for singing, dancing and playing guitar—three things Piazza had no experience doing. It would be enough to make a lesser performer panic, but Piazza had a different outlook.
"I thought, you know what, this is great," Piazza says with a laugh. "This is like leading with a nude scene; if I dive in here, it will be liberating."
And what a dive to take. In Jersey Boys, the Clint Eastwood–directed adaptation of the hit Broadway musical, Piazza plays Tommy DeVito, a founding member of the Four Seasons. For the actor, whose big break came courtesy of Boardwalk Empire (he plays gangster Lucky Luciano), it's more than just an opportunity to make an impact on the big screen; it's also a chance to play an underdog who slogged—and sang—his way to success.
"These were blue-collar guys from a tough neighborhood. They were the have-nots," Piazza says of DeVito and his band, whose hits included "Big Girls Don't Cry" and "Walk Like a Man." "And they succeeded to such a degree that they transcended the limitations the world had put upon them. That's inspiring."
Piazza's own career has taken a slightly different track. The Queens, New York, native grew up thinking he'd become a professional hockey player, but when that didn't work out—"hockey was my first passion," he says sheepishly, "but it escaped my abilities"—stints in construction and finance followed. The latter, Piazza says now, is what pushed him into acting.
"When I was in finance, I was kind of the office clown and I had a friend at work who'd say I was wasting my time, that I should be an actor," Piazza recalls. "It made me question the decisions I'd made and I realized I wanted to act."
From there, Piazza hired an acting coach and almost immediately started working—he won small TV and theater roles before landing on Boardwalk in 2010. Now, he's coming to Cineplexes, having honed his singing, dancing and guitar-playing skills "at hyper speed" with the help of the Jersey Boys team.
Playing DeVito, he says, has been an experience that reminds him why he wanted to act in the first place. "I've encountered bullies, and this is a story that says you can fight your way past that and succeed if you work hard," he says. "There's something about elbow grease that can bring you from a little corner of New Jersey to being a worldwide sensation."
MORE:
Isabel Toledo: From Bergdorfs to Broadway
Rocky's Margo Seibert is Broadway's New Knockout
Daniel Radcliffe on His Latest Stage Role