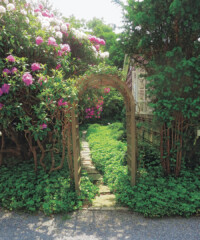 Throughout the year, we yearn for a time when we can take a step back and immerse ourselves into a simpler, albeit sometimes more exclusive, world.
Nowhere is this urge more apparent than in The Big Book of the Hamptons, a 300-page tome dedicated to those much-ballyhooed hamlets to the east of the Shinnecock Canal, where summertime elegance was de rigueur even before the area became a brand.
"It's funny how much influence there is in a name," says Michael Shnayerson, who wrote the six-pound book's introduction. "A few decades ago, 'The Hamptons' didn't exist—not as a name, that is. There was only the East End, with its individual towns. Somehow, the very name 'The Hamptons' conjured up such visions of glamour that it transformed the entire area."
A longtime resident of the area, Shnayerson says what's truly appealing about spending time out East has nothing to do with the over-the-top lifestyle many associate with the South Fork.
"What inspires me most about the Hamptons—besides the obvious: ocean, beach, sky—is the way landscaping is creating a gorgeous new world," Shnayerson says. "I love the fields, and mourn their passing, but after preserving as many as we can, there's nothing more to do except appreciate the new landscape we have."
The book, out June 17, is available at assouline.com or at Assouline boutiques in The Plaza Hotel and The Mark Hotel.
Click through the gallery to get a sneak peak inside the book.
MORE:
4 Tips for the Hamptons-Bound This Summer
Rehab, Hamptons Style
Inside Kelly Bensimon's Book In the Spirit of the Hamptons