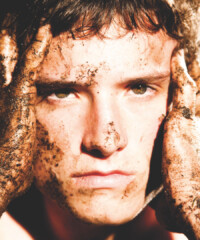 Tyler Shields' photos are meant to be provocative. How else can you describe a picture of a woman taking a chainsaw to a Birkin bag or a shot of Zachary Quinto all soaped up and barely hidden behind a shower curtain? But that's what makes Shields, the L.A.-based shutterbug whose work has inspired devotion from his subjects and death threats from his foes, interesting as a photographer and a subject.
The Dirty Side of Glamour, out November 12, is Shields' first book. It offers 130 photos that, according to his press materials, stretch the boundaries of good taste. That's putting it mildly.
"I have a way I like to do things and it usually turns out," Shields says. "It's not the way other people like to do things, but I what I end up with is very different than what else is out there. I love the feeling of letting someone be free and then capturing it."
And celebrities love it, too. Shields has photographed everyone from Lindsay Lohan (playing with a gun) to Kellan Lutz (brandishing power tools), and his book boasts two forwards—one from model and actress Francesca Eastwood and the other from American Horror Story star Emma Roberts.
What inspires this devotion? "I think people enjoy working with me and I enjoy making the art," Shields says. "We've done a lot of crazy things and I feel like it's just getting warmed up. A lot of people choose to slow down when they reach a certain level of success. I'm not into that. I am into hard work and dedication. I have to better myself and my work all the time."
With that in mind, the photographer has a new prospect on the horizon: filmmaking. Shields is working behind the camera on two forthcoming films, Outlaw and Final Girl. "Movies are a big thing for me," he explains. "I am all about the idea of trying new things artistically. My dream was always movies."
For now, the photographer will keep pushing himself. "I want to be the best I can be," he says, "and show people what is possible."
View the gallery above to see some of Shields' most outrageous photos and find out how they came to be.
MORE:
Lori Goldstein: The Bold and the Beautiful
Ellen von Unwerth Photographs Cannes Up Close
The Top Faces at the Toronto Film Festival, from Jeff Vespa