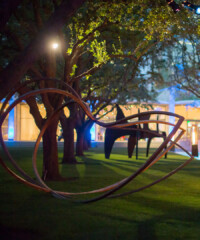 On Saturday, Chicago-based artist Theaster Gates took home the Nasher Prize, an award given by the Nasher Sculpture Center in Dallas to a living contemporary sculptor for his or her "extraordinary impacts on the understanding of the art form." As the Nasher's 2018 laureate, Gates snagged $100,000 and headlined a full slate of dialogues and festivities, culminating in a black-tie dinner on Saturday evening attended by Dallas's cultural elite.
Gates's multidimensional practice, often dubbed "social practice art," calls attention to ordinarily ignored media, from industrial tar to disused real estate, re-centering historically marginal narratives and reshaping entire communities. His longest running and most exemplary work is Dorchester Projects on Chicago's South Side, a site-specific, ever-expanding constellation of blighted properties recommissioned as affordable housing or cultural centers.
Gates's smaller-scale works are often rooted in manual and civic labor rather than formal artistic training; his roofing tar series repurposes the industrial binder used by his father, a Chicago roofer by trade, as shellac. In 2016, Gates's grassroots preservation of Chicago's racial and infrastructural history came full circle when he served on the design panel for Barack Obama's forthcoming presidential library on the South Side.
A catalyst as much as a creator, Gates fittingly seems to view his endorsement by the Nasher as an opportunity for reform rather than a medal of honor. "I don't really want to join a canon," he tells us. "I want MFA programs to be different. I want kids' social studies and history class to be different."
One might expect Gates, with his socially conscious, sometimes intangible body of work, to have little time for the ceremony and hyper-materiality that come with prizes. But the Nasher Prize, established by collecting dynasty the Nasher family in 2015, seems tailor-made for Gates. The prize's previous winners, protest artist Doris Salcedo and French conceptual sculptor Pierre Huyghe, have each informed Gates's practice in their reshaping of the contours of conventional sculpture. "While I was watching the video I was thinking about Doris. And I was thinking that if I have to say anything, it's that Doris is amazing, and Pierre Huyghe is amazing," he tells us. "And so it's like, what's the speech? It's that Doris and Pierre are amazing."
But Gates, the Nasher's youngest and first American prizewinner, has a unique place outside of the art historical paradigm. A self-proclaimed non-artist, Gates spent 15 years as a potter with a day job in urban planning before seizing the contemporary art world's attention with "Plate Convergence," a ceramics exhibition mounted under the fictional persona Shoji Yamaguchi. For the exhibit's opening, Gates hired an actor to play Yamaguchi, who, according to Gates's invented backstory, survived Hiroshima to move to Mississippi and found the Yamaguchi Institute.
Shortly thereafter, Gates pivoted from subversive performance art to the more practical work of urban renewal, purchasing an abandoned candy store on the South Side that would become the first phase of the Dorchester Projects. Today, the building houses Rebuild, Gates's nonprofit, hosting a range of cultural programming from listening parties to drawing workshops.
Gates's more portable sculptures have been exhibited at top-shelf institutions all over the world, from the Whitney Biennial in 2010 to Documenta 13 in 2012. The Nasher Prize, selected by a jury of institutional heavy-hitters from former director of the Tate Modern Nicholas Serota to Museum of Contemporary Art, Tokyo's Yuko Hasegawa, represents the continued ascent of Gates's highly local yet increasingly internationally recognized practice.
Despite his growing trophy chest, Gates's sense of duty has only intensified. "I think that preservation doesn't teach people enough about the world," he says when asked to reflect on his newly minted, Renzo Piano-designed statuette. "In these moments when you're supposed to say something, it seems like the best thing to say is, 'Do something. Do more. Do better.' We all need to be better. That's just how I feel."
Main image: Theaster Gates (Kiss Me For Eternity Photography by Thisbe Grace & Co.)