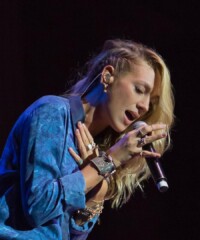 On a recent Friday night, the Greek Theater in Berkeley lit up with the inaugural concert for RH Music, Restoration Hardware's newly unveiled platform for emerging artists that provides cutting-edge musicians opportunities to reach new audiences. On September 20, three phenomenal bands curated by the initiative "set the stage" for the highly energized evening under the stars.
The Brixtons—the vintage-inspired pop duo of Ken De Poto and Donna Missal who regularly pack hip Manhattan night clubs—brought their best to the West Coast as the night's opening talent. The chemistry of their artistic collaboration is undeniable, and their performance can best be summed up by the words inked on De Poto's arm: Where Words Fail, Music Speaks. Their debut album is slated for early 2014.
Larkin Poe, the "swampadelic" Georgia-born sisters Rebecca and Megan Lovell, filled the second act slot, giving the crowd the best of their harmony and soul. The favored backup band of Elvis Costello, Larkin Poe has previously performed to large crowds before across the U.S. and in Europe, but this show with RH Music is a prelude to their forthcoming debut album, set to release later this year.
The final act of the night had the theater on its feet. British singer/songwriter Edei—with her soulful vocals and hip hop vibe—was like a major caffeine rush. One of the U.K.'s most in-demand artists, Edei laid claim to the number-one love song across the pond in 2012 with her tune "Loved," and now she's recording here in the U.S. with her next album dropping in spring 2014.
Keep a watchful eye for all three, because if RH Music has anything to do with it, they're the next household names in the business.